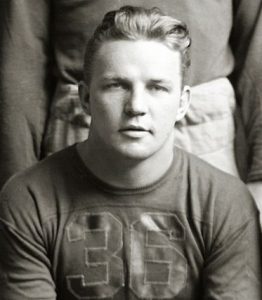 The Marquette University Law School has long been associated with the world of sports.  Although the National Sports Law Institute has represented the connection in recent years, the school's relationship to the sports industry goes back much further than the 1989 founding of the Institute. Federal Judge Kenesaw Mountain Landis, later the first Commissioner of Baseball, was a lecturer at the law school shortly after it opened; Carl Zollmann, the first major sports law scholar, was on the Marquette Law faculty from 1922 to 194; and a number of outstanding athletes, including Green Bay Packer end and future U. S. Congressman Lavvy Dilweg and Olympic Gold Medalist (and future congressman) Ralph Metcalf studied at the law school in its early years.
However, no one has ever combined the two fields more perfectly than Prof. Ralph I. Heikkenin who, during the 1947-48 academic year, both taught full-time at the law school and coached the Marquette varsity football team, at a time when the team played at the highest level of collegiate competition.
Heikkinen was already well known to sports fans in the upper Midwest when it was announced that he would be joining the Marquette faculty and staff in the spring of 1947.  A native of the Upper Peninsula of Michigan, Heikkinen had grown up in the community of Ramsey.  He had enrolled in the University of Michigan in the fall of 1935 where he excelled academically. Not only was he an outstanding student, but he was a published poet and the president of the student government.  On top of that, he was an under-sized lineman who made the powerful Michigan football team as a walk on.
Although he began his career as an unheralded newcomer, by the time he was a junior, Heikkinen had developed into one of the best two-way linemen in the country. Although just 6' tall and weighing only 183 pounds, he was voted as his school's MVP during both his junior and senior years and was chosen unanimously as a guard on the 1938 All-American team.  During Heikkinen's senior year, the Wolverines, under new coach Fritz Chrisler, narrowly missed a perfect season thanks to a narrow 7-6 defeat at the hands of Minnesota, in which Michigan botched an extra point kick, and a 0-0 tie with Northwestern, which featured a Michigan missed field goal from the 6 yard line.  Even so, the team finished the season 6-1-1, ranked #16 in the country in the final Associated Press poll. Continue reading "The Law Professor Who Coached the Marquette Football Team"