The bald eagle symbolizes the strength of the United States, not least when the country uses its military power. The eagle on the cover of the Marquette Lawyer magazine, Fall 2018 issue, shows the determination, even the fierceness, of the eagle during times of war.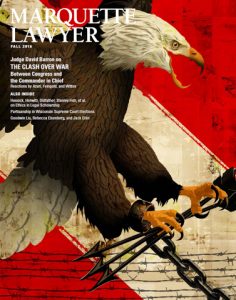 But the process involved in deciding where and how that eagle flies is more complex than many people may realize. In the cover story in the new Marquette Law School magazine, David J. Barron, judge of the U.S. Court of Appeals for the First Circuit and formerly a Harvard Law School professor, insightfully examines three chapters in American history when a president and leaders of Congress had differing positions on use of power. Barron focuses on three of the nation's most revered presidents: George Washington, Abraham Lincoln, and Franklin D. Roosevelt. The article is an edited and expanded version of the E. Harold Hallows Lecture that Barron delivered at the Law School in April 2018. To read the article, click here.
Interspersed throughout the article are reactions by three individuals with different perspectives on the relationship between Congress and the commander-in-chief: Russ Feingold, former three-term U.S. senator from Wisconsin and currently distinguished visiting lecturer in international studies at the University of Wisconsin–Madison; Julia R. Azari, associate professor of political science at Marquette University and a scholar of the American presidency; and Benjamin Wittes, editor in chief of Lawfare and senior fellow in governance studies at the Brookings Institution.
Barron's article, together with the reactions, is only one of the thoughtful and thought-provoking pieces in the new Marquette Lawyer. Elsewhere in the magazine: Continue reading "New Marquette Lawyer Magazine Examines War Powers, State Supreme Court Elections, Legal Scholarship Ethics, and More"