This semester in Professor Lisa Mazzie's Advanced Legal Writing: Writing for Law Practice seminar, students are required to write one blog post on a law- or law school-related topic of their choice. Writing blog posts as a lawyer is a great way to practice writing skills, and to do so in a way that allows the writer a little more freedom to showcase his or her own voice, and—eventually for these students—a great way to maintain visibility as a legal professional. Here is the first of those blog posts, this one written by 2L Michael Van Kleunen.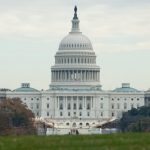 Since the high school shooting in Parkside, Florida, we have seen an arguably unprecedented response from citizens and politicians speaking out on the topic of gun control and the extent to which a policy should be implemented. However, the National Rifle Association (NRA) and other gun rights groups have maintained a strong stance against policies that limit the proliferation of guns in the United States, basing their argument on the Second Amendment.
These groups have profoundly affected political rhetoric and the subsequent legislative landscape for decades. Recent polls have shown a majority of Americans would like to see Congress pass some kind of gun control legislation. But why has it taken so long for such policies to move forward? One key reason is the amount of campaign contributions issued to politicians who occupy vital positions that, inherent in their position, facilitate the creation and passing of legislation.