Posted by: Brian Matt
Category: Milwaukee, Political Processes & Rhetoric, Public
Leave a Comment »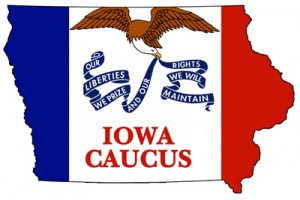 Many non-political people question the primacy of Iowa and New Hampshire in the process of picking our Presidential candidates. As the Iowa Caucuses less than 90 days away, it is worth considering the importance of the early contest and assessing paths to primary victory.
Iowa and New Hampshire are important because they test a can test a candidate's endurance, organization and strategy.  Because voters in the early primary states take their participation seriously, they expect to have lots of one-on-one encounters with hopefuls (retail politics). Former Senator Rick Santorum (R-PA) won Iowa in 2012 on a shoestring budget because of a grassroots effort to have town halls in all 99 counties.
Since the Iowa Caucuses began in 1976, they have not been a great predictor of eventual GOP nominees. While Iowa many not pick a winner, but it typically does thin the field out. Being in the top three tends to punch a ticket for later contests.
Favorite son candidates sometimes can do well in Iowa just because of their connection or proximity to the Hawkeye State.  Such was the plan of Rep. Dick Gephardt's (D-MO 3rd) in 1988, Rep. Michele Bachmann (R-MN 6th) or ex-Governor Tim Pawlenty (R-MN) in 2012 but this pathway to success proved futile.  There was some speculation that Governor Scott Walker (R-WI) would have greatly aided by his native Iowan ties and being a next door neighbor, but that was not enough for him in the 2016 election cycle.
Iowa voters expect to be courted by aspiring candidates. But how "retail" politics is conducted matters to assuage "Iowa Stubborn".  In 2004, former Governor Howard Dean (D-VT) was the presumptive favorite as he had a large stash of cash from internet fundraising and could mobilize an army of college students to knock on doors. Well, Hawkeyes did not cotton to brigades of out of state youths prodding people to the caucuses.  Thus, when Dean placed in third, he tried to rally the troops at a post caucus rally with the infamous Howard Dean scream. Soon after, Dean dropped out.
These prickly participants in the political process must be cajoled to show up for the caucuses. Not only do they need to be motivated to go out on a snowy February night to show up for the caucuses, they must be prepared to spend several hours arguing with their neighbors to convince others of their candidate's virtues. There are not private ballot boxes for Caucuses so Caucus goers must argue and advocate for their candidate. Thus a "silent majority" who acts according to their principles in the sanctity of the ballot box will not do.  The internal Jeb Bush campaign blueprint estimated that just 122,000 Iowa Republicans would decide the 2016 Caucuses.
The importance of Iowa was demonstrated by the quick reversal of a social media faux pas by Donald Trump.  The brash businessman who spoils for fights, was upset about polling second behind Dr. Ben Carson. Trump's Twitter account, which he had leveraged for publicity to personally comment during the Democrat debate, forwarded a snarky dismissal of the poll, denigrating Iowans. Within a couple of hours, the Trump campaign deleted the tweet and expressed the regret for a young intern for the gaffe.  OK, so much for spoiling for a  fight and never backing down as well as the aura of authenticity.
The Iowa contest may only sport 30 delegates split amongst the candidates, but doing well gives what 1980 GOP candidate (and later President)  George Herbert Walker Bush called "The Big Mo."  Good publicity from being win place or show in Iowa can help for the next contest in New Hampshire.  But where "the Big Mo" really matters is in the "Invisible Primary" for donor dollars..  Doing well in the donor primary makes a difference in expanding organization and financing media buys several weeks down the road to effectively compete in a series of contests held on the same day, like the SEC primaries (March 1st) or in a populous and diverse state in which wholesale politics is essential, like Florida or Ohio (March 15th).
Some may claim that the "Invisible Primary" ends before selection process begins, because money in the bank allows for prudent allocation of resources. But sometimes candidates on the brink of financial collapse, like Senator John McCain in 2008 or Senator Rick Santorum's shoestring start  in 2012, needed the infusion of finances and publicity after doing well (or significantly beating expectations) in Iowa.
Some Republican candidates choose not to put as much emphasis on Iowa since the agrarian and evangelical Midwestern voters may not suit certain campaigns.  But if not Iowa then doing well in New Hampshire is sine qua non.  New Hampshire voters are contrarian and typically reject Iowa's lead.. The Granite State had a long reputation for picking Republican winners, with a couple of notable recent exceptions.
There are different strategies for success in Iowa. Some strong candidates like Senator Ted Crus seem to have been consciously drafting in the pack of the political peloton. Cruz was the first candidate to announce with a robust religious liberty component which appeals to evangelical voters. In the Senate, Cruz threatened filibusters to have votes on principles policies (e.g. Obamacare, Iran Nuke Deal) which irritated the GOP Cocktail Party Establishment and which positioned him as an outsider inside the District of Calamity (sic). Cruz has a strong campaign war chest and several independent Super PACs. All signs point to strong organization in early contests and the SEC primaries.  Cruz is a skilled debater who has made good use of the limited time he has been given in debates and he has not made enemies with his opponents. Yet in November 2015, Cruz is nationally polling 4th with 10%, but notably in 3rd place with 14% in Iowa.
Cruz's path to victory would need to do well in Iowa (especially with very conservative and evangelical voters), be competitive in New Hampshire, rebound in conservative South Carolina and then be successful in the bulk of SEC primaries (including his home state of Texas) on March 1st.  This slow and steady success strategy does not have the sizzle of Trump or the establishment imprimatur for former Governor Jeb Bush (R-FL), but is solid strategy that has a pathway to victory.
Whether or not this works remains to be seen. Political junkies may know more after the Fox Business Republican Debate at the Milwaukee Theater on November 10th. Since there will not be another debate for a month, the Milwaukee debate may cement standings into early 2016.
Brian Matt is a 1991 graduate of the Marquette University Law School. He is an attorney and freelance writer based in Washington, DC (a.k.a. The District of Calamity). His favorite contact sport is politics. His musings on politics and policy can be found at DCBarroco.com and via twitter at @DCBarroco .

You can follow any responses to this entry through the RSS 2.0 feed. You can skip to the end and leave a response. Pinging is currently not allowed.