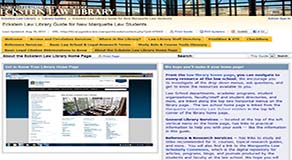 Are you a new Marquette Law Student?
Check out our Library Guide for New Students!
Fall 2013
Welcome to Eckstein Law Library! For 1Ls and transfer students, our Guide for New Marquette Law Students will not only help in finding the way to course reserves and study aids, but will also give a jump start to legal research terms and citation abbreviations.
We invite new law students to look through this guide and then meet members of Eckstein Law Library at a library luncheon on either on August 27 and August 29.