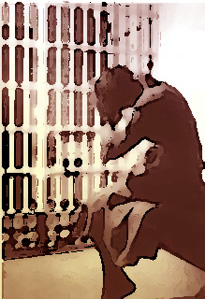 The Seventh Circuit has an interesting new sentencing decision, United States v. Carter, which nicely illustrates the impact of the Supreme Court's decision last year in Gall v. United States.  Robert Carter, the husband of defendant Virginia Carter, embezzled money from his insurance business over several years.  There is no indication that Virgina Carter participated in the embezzlement, but she likely had some knowledge of what was going on.  Eventually, for reasons that are unclear, she sought a divorce.  Following the advice of her lawyer, who did not know that much of the family income was illegal, Carter attempted to take control of the couple's liquid assets by transferring them into her own individual bank accounts.  Normally, this would be a sound tactical move in a divorce setting, but, by virtue of the criminal origin of the assets, Carter thereby became a money launderer.  Following conviction, she faced a recommended sentence of 87-108 months in prison under the federal sentencing guidelines.
Notwithstanding the guidelines range, the sentencing judge imposed a sentence of 24 months, based primarily on Carter's age (61) and the fact that her money laundering was not as serious as the types of offenses contempated by the money-laundering provisions of the guidelines.  Prior to Gall, an apppellate court might have demanded a strong showing that a case was highly unusual before permitting such a large variance from the guidelines (about a 70 percent discount).  And, indeed, appealing Carter's sentence, the government had a good case that Carter's age was not so unusual (the median age of money launderers is 40, and about 20 percent are over 50).  But Gall rejected formulations of the appellate standard of review that require a showing of extraordinary artypicality to justify large deviations from the guidelines, emphasizing instead a need for appellate courts to defer to the deeper knowledge and broader experience of district court judges.  Following Gall's lead, Carter affirmed, with the Seventh Circuit giving short shrift to the government's argument that the defendant's age did not materially distinguish her from the typical money launderer.  In so doing, the court effectively highlighted the post-Gall reality that even usual defendants can get unusual sentences.
Those who practice criminal law in the federal courts will find much to interest them in Carter (for instance, the discussion of the use of comparative statistics in litigating sentences) but what strikes me most deeply about the case is the way it illustrates the crazy disproportionality of the federal criminal justice system.  We live in a odd world when two years in prison is regarded as an extraordinary act of mercy for a first-time, nonviolent offender whose crime was largely technical in nature.  It is odder still to realize that the sentencing guidelines called for more than seven years in this case–especially considering that the average sentence for violent felonies in this country is only about six years (which also happens to be about what Mr. Carter–the real crook in the story–received).  Why the Department of Justice felt it would be a good use of taxpayer resources to appeal Carter's sentence (and, if successful, to imprison her for seven years) is a mystery–this seems to me a case of carrying an attractive abstract principle (sentences should be imposed in a uniform, objective manner) to absurd lengths.