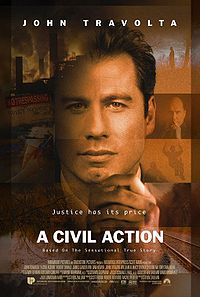 There are many great law-related movies, but the one that has special resonance for me is A Civil Action (1997).  In fact, back when I taught Civil Procedure, I required students to watch the film, and we had some really terrific class discussions about it.  The plot centers on a lawsuit brought by a group of residents of Woburn, Massachusetts, against several industrial polluters.  At the heart of the film is the confrontation between an up-and-coming plaintiffs' lawyer played by John Travolta and a grizzled, big-firm defense lawyer played by Robert Duvall.  The Duvall character seems an avatar of the amoral corporate lawyer, whereas the moral status of the Travolta character seems more uncertain and may evolve over the course of the movie.
Both actors deliver deeply engaging performances, as do several other top-flight character actors in supporting roles.  (James Gandolfini is especially good as a blue-collar employee of one of the defendants who must decide whether or not to cooperate with the plaintiffs' lawyer; he doesn't have many lines, but he exudes this barely subdued rage, looking as if he would like nothing more than to punch somebody out, if only he could decide at whom he should really be angry.) 
But, in addition to great acting and a compelling story, there are lots of other reasons this movie really works for me. 
For one thing, environmental litigation is what I myself was doing as a lawyer in 1997 (when the movie came out), and who can resist a glamorized, Hollywood version of one's own life?  (Perhaps this also helps to account for the enduring fascination with The Paper Chase among law students and law professors.)  Yet, though glamorized in some respects, the depiction of complex environmental litigation in A Civil Action is accurate enough that I consistently found it to be a good way to begin a discussion with students about important problems in the American civil litigation system (e.g., lawyer-client conflicts of interest, plaintiff-defendant resource imbalances, and excessive cost). 
Ultimately, though, what I like most about the movie is its dramatization of the profound gap between what the lawyers and court system are willing and able to provide and what the victims of great human tragedy most desperately want.  At first, we see the Woburn victims — families who lost children to cancer — only through Travolta's eyes.  The negative stereotype is that plaintiffs' lawyers see victims only as a meal ticket.  For the Travolta character, though, I think he sees his clients less from the standpoint of a financial payoff, and more as a way to get the ego-gratification that comes from playing David to a corporate Goliath. 
In any event, the plaintiffs' lawyer seems to have no empathy for the terrible grief of his clients; indeed, he expressly disclaims any such emotional response by a lawyer as counterproductive to the clients' legal interests — which he equates with maximizing financial gain.  Gradually, we, the audience, come to see that the clients are less interested in money than in an explanation of why they lost their loved ones, an apology for wrongdoing, and generally having their basic human digintity recognized by the big corporate and legal actors in the case.  The Travolta character finally seems to get some sense of this by the end of the movie — although there is enough emotional subtlety in the production that we do not get an overly obvious epiphany.  Still, I think the movie works as a healthy reminder for lawyers and law students of the human needs for healing and respectful treatment that lie behind much litigation, and that cannot be met through dollars and cents alone.