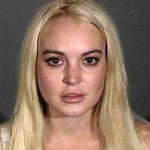 I have two friends (and fellow classmates) who love to flood my email inbox and Facebook account with pictures of Lindsay Lohan. I think they love it more than summer break. Admittedly, I had this coming. These friends showed me a particularly startling picture of Ms. Lohan during a study break 1L year, and I let out a sort of shriek that I'm not proud of. I understand that actions have consequences. The pictures began rolling in during fall of 2011 and haven't stopped since.
Feelings of disregard pervaded those first few months. But as the seasons changed, so did I. Most pictures came with headlines, and the more I read, the more I wondered how someone can so frequently break laws, violate probation, and skip out on court dates, and yet avoid any meaningful jail time. Then again, it's not necessarily her fault that she's been able to avoid consequences better than I have. The question, for me at least, is whether the justice system has treated her differently than it would you or I. And if so, why?
Let's take a brief look at her criminal record. In 2007, Lohan was arrested twice in two months for driving under the influence. The second arrest included cocaine possession. Since then, she has appeared in court at least twenty times in front of four Los Angeles judges who have found her in violation of probation on six occasions, including failed drug tests and felony theft of a $2,500 necklace from a jewelry store. In all, she has been sentenced to a total of nine months in jail, but has actually served only two weeks. The few times that she was in jail, she was quickly released due to "overcrowding." As an alternative, she has spent over 250 days in rehab, 35 days on house arrest, and 67 days doing community service.
In light of her history, there is a widespread public perception that Lohan has been insufficiently punished. What are the possible explanations for this? One might be her ability to hire high-powered legal counsel. Her longtime attorney Shawn Holley was part of the legal team that defended O.J. Simpson and worked alongside Johnnie Cochran for many years. She is currently considered one of the best celebrity attorneys in the country.
Our own sentencing expert, Professor O'Hear, provided some potential explanations as well. In his article "Blue-Collar Crimes/White-Collar Criminals: Sentencing Athletes Who Commit Violent Crimes," he considered two arguments for why lenient sentences might be justified for professional athletes, and I think they apply to famous actors as well. First, there is a certain amount of punishment that comes with simply being prosecuted and convicted. The resulting loss of marketability can be tremendous for an actor and may be viewed as enough punishment itself. Second, the opportunity costs of prison are very high for people like Lohan. Measured in dollars, any time spent in prison is a much greater loss for a high-profile actor or professional athlete than for the ordinary citizen.
Another explanation might be the perception that jail isn't what Lohan needs. The ruling in her most recent court appearance seems to support this. Facing two misdemeanor convictions for reckless driving and lying to police, along with a probation violation for the necklace theft, Lohan successfully petitioned for a 90-day rehab stint instead of a 3-month jail term. Unlike most of her previous arrests and probation violations, these charges didn't even involve drugs or alcohol. It may be true that she struggles with addiction, but when does a judge finally draw the line and decide incarceration is needed?
While these explanations might clarify why Lohan has received more lenient punishment, they don't answer for us whether it is justified. It's a complex question because in addition to the many factors that could support lenient punishment, each defendant presents a unique personal history and set of circumstances that judges and juries must balance against their own perceptions and experiences. All of this will make it interesting to see how the justice system handles her case going forward. And luckily for me, I'm the prince of Lindsay Lohan news. I don't need to seek it out, it's delivered to me.