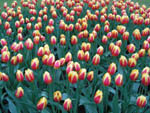 This article from Wired Magazine (somewhat similar to this article from the N.Y. Times a month ago) seems to me to confirm that the present financial meltdown was caused by a sort of modern tulip mania, this time for collateralized debt obligations. A taste:
What is the chance that any given home will decline in value? You can look at the past history of housing prices to give you an idea, but surely the nation's macroeconomic situation also plays an important role. And what is the chance that if a home in one state falls in value, a similar home in another state will fall in value as well?
Enter [David X.] Li…. Using some relatively simple math—by Wall Street standards, anyway—Li came up with an ingenious way to model default correlation without even looking at historical default data. Instead, he used market data about the prices of instruments known as credit default swaps. . . . It was a brilliant simplification of an intractable problem. . . .
The effect on the securitization market was electric. Armed with Li's formula, Wall Street's quants saw a new world of possibilities. And the first thing they did was start creating a huge number of brand-new triple-A securities. Using Li's copula approach meant that ratings agencies like Moody's — or anybody wanting to model the risk of a tranche — no longer needed to puzzle over the underlying securities. All they needed was that correlation number, and out would come a rating telling them how safe or risky the tranche was.

As a result, just about anything could be bundled and turned into a triple-A bond — corporate bonds, bank loans, mortgage-backed securities, whatever you liked. The consequent pools were often known as collateralized debt obligations, or CDOs. You could tranche that pool and create a triple-A security even if none of the components were themselves triple-A. You could even take lower-rated tranches of other CDOs, put them in a pool, and tranche them — an instrument known as a CDO-squared, which at that point was so far removed from any actual underlying bond or loan or mortgage that no one really had a clue what it included. But it didn't matter. All you needed was Li's copula function.

The CDS and CDO markets grew together, feeding on each other. At the end of 2001, there was $920 billion in credit default swaps outstanding. By the end of 2007, that number had skyrocketed to more than $62 trillion. The CDO market, which stood at $275 billion in 2000, grew to $4.7 trillion by 2006.
The problem was that the model was only as good as its inputs, and the data being input was all drawn from a bad sample: the short period of time when the market for credit default swaps actually existed, which just happened to be a time when housing prices were rising. The risk of correlated mortgage defaults in a housing downturn therefore wasn't priced, it was excluded. A fact, it seems, which almost everyone ignored, no doubt entranced by the millions, or billions, everyone else was making. At least the tulip mania generated a lot of pretty flowers.