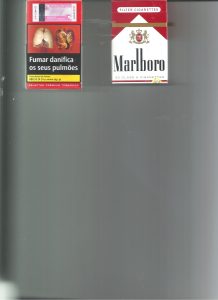 I had the delightful opportunity at the beginning of the summer to deliver a conference paper in Portugal.  Lisbon's cobblestone alleyways and bustling riverfront were exciting, but odd as it might seem, Portuguese cigarette packaging also caught my eye.
All cigarette packs in Portugal have graphic images related to the dangers of smoking cigarettes: rotted teeth, amputated toes, diseased lungs, stitched-up chests, and naked corpses sprawled out on coroners' metal tables.  The images and the accompanying verbal warnings take up the fronts and backs of the packs, and brand names such as "Marlboro" appear only on the narrow bottoms of the packs.
None of the Portuguese smokers to whom I spoke – and there were plenty – seemed particularly offended by the packaging.  So-called "scare messages," after all, are genuinely intended to get smokers to stop.  They are consistent with the World Health Organization' s directives regarding cigarette packaging, and graphic images appear on cigarette packs in most European countries.
What about graphic images in the United States?  It briefly seemed that they would begin appearing after the passage of the Family Smoking Prevention and Tobacco Control Act in 2009.  The Act in fact mandated them, and the Food and Drug Administration (FDA) formally approved nine graphic images that it considered especially likely to make people afraid of smoking.
However, the tobacco industry and assorted neo-liberal pundits immediately rose up in arms.  The former, of course, worried about its profits, and the latter championed the "right to smoke."  The graphic warnings, the pundits argued, interfered with freedom of choice.  They were the efforts of the nefarious "nanny state."