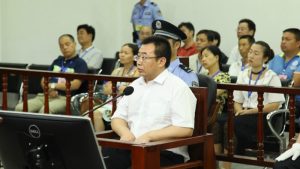 As the Chinese lawyer Jiang Tianyong painfully realized, a belief in the rule of law is commendable in one context but deplorable in another.  While a belief in the rule of law has traditionally been honored in the dominant American ideology, the same belief is suspect given the dominant Chinese ideology.
Jiang had been a prominent human rights lawyer in Beijing and represented a large number of Chinese dissidents, often with surprising success.  His most famous client was perhaps Chen Guangcheng, an activist who fled house arrest and received asylum in the American Embassy.  Most recently, Jiang represented a group of other human rights lawyers, who were being prosecuted for criticizing the government.
In late August, 2017, Jiang himself was convicted of inciting subversion and attempting to undermine the Chinese Communist Party.  His trial as broadcast live on Weibo, a popular Chinese social media network, and highlights of the trial appeared daily on Chinese network television.
Jiang's conviction was hardly surprising since, late in the trial, Jiang confessed.  In his confession, Jiang apologized for the harm he had done and, indeed, admitted he was part of a conspiracy to topple the Chinese Communist Party.  His confession ended with an emotional plea for mercy and for "a chance to become a new person."
What's surprising, at least for an American, is that Jiang said he had stumbled into subversion because of a misguided belief in the rule of law.  Jiang pointed at "the bourgeois Western constitutional system" and claimed that it had a "subliminal influence on him."  Because of his belief in the rule of law, Jiang said, he rejected China's political system and worked to replace it with the type of system that reigns in the United States. Continue reading "Jiang Tianyong, Subversion, and the Seductive Rule of Law"