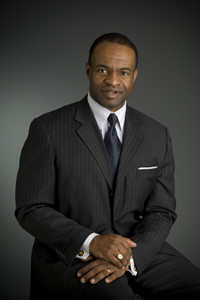 The NFL Players Association new executive director, DeMaurice Smith (left), "wowed . . . player representatives with an hour long presentation," but prior to his election was "a relative unknown quantity in NFL circles," according to a report by Sports Illustrated's Don Banks. Prior to his election, Smith was a "trial and litigation partner at Patton Boggs who concentrat[ed] in white-collar criminal defense and 'bet the company' tort liability trials."
So, a white-collar defense attorney who was a relative unknown in NFL circles is now leading the NFLPA into an uncertain future that features a collective bargaining agreement that expires in 2011, a year without a salary cap in 2010 (under the terms of the current CBA), and an uncertain (at best) worldwide economic climate.
I don't know that Smith wasn't the best choice, but I do know that the other candidates — former players Trace Armstrong and Troy Vincent and sports attorney David Cornwell — had strong ties to the NFL. Armstrong and Vincent both are former NFLPA presidents. Cornwell represented several NFL players in a federal lawsuit against the NFL seeking an injunction preventing the NFL from suspending the players for violating the NFL's drug policy.
I'm skeptical that this is the right time for the NFLPA to bring in an outsider. The NFLPA is only looking for a new executive director because of the unexpected death of Gene Upshaw, who led the NFLPA for twenty-five years. Smith is seemingly taking a hard line with the NFL on the upcoming negotiations and is already talking of "prepar[ing] for war" and "not go[ing] back" to a salary cap if the 2010 season is played without one. Hopefully, Smith's presentation went beyond hard-line rhetoric and laid out a plan that will ensure the labor peace and economic prosperity that are Upshaw's legacies. As a fan of the NFL (the Packers, not the Steelers, sorry Professor Schneider), I hope the players made the correct choice for their executive director.