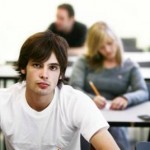 A large part of my life has been devoted to getting into law school (it was not an easy task for me), and now that I am here I find myself slightly disappointed. It is not that I don't find law school to be challenging or interesting; it is just that it is not as intellectually stimulating as I had hoped. Maybe my expectations are too high, but is it really too much to ask to have an interesting class discussion?
Before I go any further, I want to make sure that everyone understands that I am not faulting the professors for the lack of class participation. The majority, if not all, of the professors I have had at Marquette have tried to elicit class discussions. Students are just unwilling to say anything. Wait, let me correct that:  most students are unwilling to say anything. There are some students who participate in every class, and, while I appreciate their contributions, no one wants to hear the same person talk all the time. It is about balance, about involving as many perspectives as possible to gain a greater appreciation for the law and the effects it has on individuals.
I think I struggle with the lack of class discussion in law school because my college experience was filled with heated class debates. My college professors not only expected class participation, they demanded it. I remember one class in particular when, after multiple unsuccessful attempts to elicit a discussion, the professor stormed out of the classroom in disgust. She came back into the room after a minute or two later to say something to the effect of, "Everything I was going to lecture on today will be on the final. For those of you who were prepared to discuss the material, thank you. For everyone else, your lack of respect for me and your classmates will not be tolerated. Your actions have ruined it for the rest of the class." It goes without saying, that that never happened again. Every student thereafter was ready and willing to participate. Do law students need the same kind of wake-up call?
Maybe that is too drastic, and maybe my undergraduate experience was atypical, but I do wholeheartedly believe that I learned more from class discussions than I have ever learned from a series of lectures. I understand that not everyone, including myself, is prepared for every class, but I don't think that should matter. We are all intelligent people and should have something to offer regardless of whether we completed the assigned materials. And if you are a person who is afraid of being wrong, or of saying something stupid, I say go ahead and say something stupid. I am wrong all of the time, but I don't usually realize it until someone points it out. Sure, sometimes I am embarrassed, but most of the time I am just happy that I realized I was thinking about it the wrong way before the final exam.
I am as much to blame for the lack of participation as the rest of my classmates, partially because I don't want to be "that girl" who talks all the time. If everyone spoke up once in a while, we would be able to have rich, interesting class discussions instead of having to settle for lecture after lecture. I know the importance of class participation is nothing new. (For example, Althouse has an interesting blog post entitled Is class participation obligatory for law students?.) However, I wanted everyone to know that it is not only professors who think students need to participate more in class. Some students, like myself, crave a more interactive learning experience.