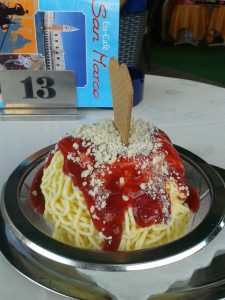 To the left you can see a photo that seems to show a plate of spaghetti noodles topped by some sort of strawberry sauce.  However, first looks can be deceiving.  This is actually a photo of a popular type of gelato, called "spaghetti eis," that is served at the Cafe San Marcos and at numerous other locations in Giessen, Germany.
Similarly, if you were to walk around the campus of Justus Liebig University for the next three weeks, you would undoubtedly see a large group of students laughing and talking as they make their way to and from classes.  You might even assume that these are German law students attending a summer session.  However, once again first looks can be deceiving.
These students currently enjoying the warm and sunny weather are actually over 40 law students who have gathered in Giessen from the United States and across the globe to participate in the Summer Session in International and Comparative Law co-hosted once again by the Marquette University Law School and our partners the University of Wisconsin and Justus Liebig University.  There are 14 students attending from the United States and a variety of other countries represented including Brazil, Poland, Egypt, Portugal, Belgium, Macedonia, Italy and Vietnam, to name a few.
At this stage of the program, the students have finished a week of classes, and a whirlwind field trip to Berlin, and they are beginning to feel at home in Giessen.  A Laser Tag outing has been planned.  The best Karaoke Bar in town has been located. Continue reading "First Looks Can Be Deceiving in Giessen, Germany"