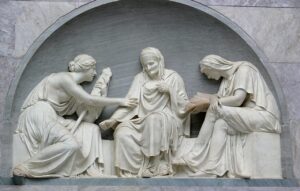 It's December 2012. I'm a 2L. I'm on my way to take my Federal Jurisdiction exam and meet what I think to be my fate, when I run into a well-intentioned faculty member. He asks me where I'm heading. "To my Fed. Jur. exam," I manage to get out. His response? "Yikes. Tough class. Well . . . good luck!"
If there's an inauspicious way to kick off an exam, I'm pretty sure that's it.
Fast forward two summers: I had graduated from law school, and my entire life had become about (1) studying for the bar exam, (2) not overdrawing my checking account, and (3) Chipotle burritos. Left and right, people were wishing me good luck on the bar. Every time they did so, the pressure mounted, as did my conviction that my professional future rode entirely on either luck or some God-given ability—neither of which I felt particularly flush with at the time. From these experiences, I began to think "good luck"—even when offered with utmost sincerity—might not the best way to send someone into a high-pressure moment.[i]
But we all do it. We say "good luck" to friends before they start a trial or to students before they take an exam because we wish them well. Behind the two simple words, though, seems the implication that we are mere pawns, our fate left to the caprice of the gods. Luck's sister concepts are, after all, fortune and chance.[ii] Expounding on the etymology of luck, University of Cambridge Professor Robert S. C. Gordon has written that the word's etymological roots imply that "[l]uck, good luck at least, brings happiness . . . , and this much seems uncontroversial. But conversely, there is already a more sombre . . . implicitly secular philosophy embedded in this lexical chain . . . : happiness is a matter of pure luck, and the path from one to the other is steeped in doubt."[iii] In other words, the notion of good luck—or the wish of it—might just imply that our happiness, our success is out of our hands.