Marquette University Law School hosted the Region VIII round of the 73th annual National Moot Court Competition on November 19-20, 2022. Both Marquette teams made successful showings.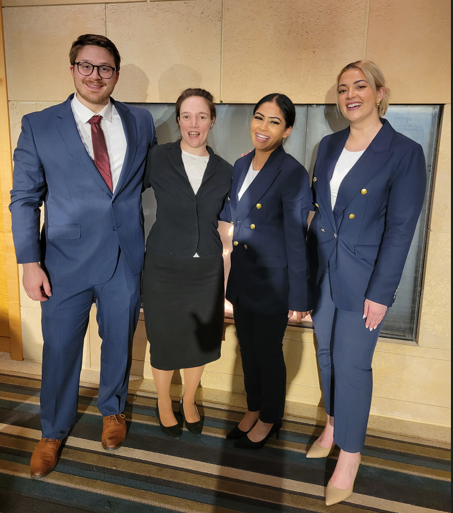 Team members Travis Goeden and Ruth Nord-Pekar advanced to the semifinal round before being eliminated after losing by less than three-tenths of a point. Professor Melissa Love Koenig advised the team, which was coached by attorneys Kieran O'Day (L'20) and Evan Thomson.
Fefe Jaber and Nicole Jennings advanced to the quarterfinals before being eliminated after losing a close round to the other Marquette team. Professor Lisa Mazzie advised the team, and attorneys Alicia Bernards (L'22), Lauren Brasington (L'22), Carsyn Bushman (L'22), Chal Little (L'16), Haley Wentz (L'20), and Christopher Vandeventer (L'22) coached the team.
Our attorney coaches are extremely dedicated and put in many hours of work with our students. We are lucky to have coaches who come back year after year. Our students benefit greatly from working with them. Our teams put in many hours of practice to prepare for the competition.
We are also grateful for the time donated by the many judges and lawyers who judged the briefs and oral arguments for the NMCC Region VIII regionals. Moot Court Associate Justices Jake Apostolu and Kyle Kasper put in countless hours to ensure the competition ran as smoothly as it did. They were ably assisted by their committee, consisting of Julie Barnett, Brett Blayer, Annie Gonring, Alesha Guenther, Nolan Heck, Anders McLeod, Andie Panozzo, Ron Tenuta, Rose VanElderen, Meg Wallace, and Jessica Zimpfer.
We also appreciate the 1L students who participated as bailiffs: John Bolden, Anisa Dhillon, Alyssa Kolesari, Alex Krantz, Mark Tomlinson, and Jonathan Wild.
The NMCC is sponsored by the New York City Bar and the American College of Trial Lawyers. More than 150 law schools compete across the country.