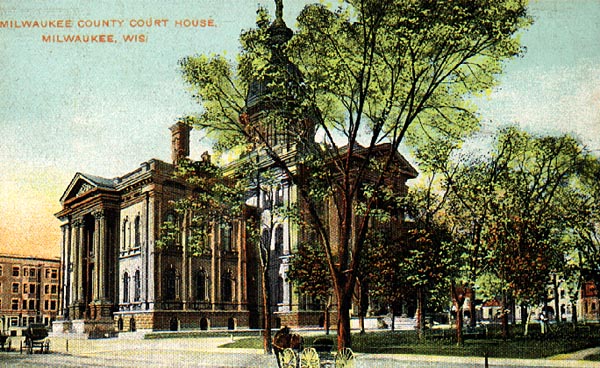 Each May the Milwaukee Bar Association holds an annual Memorial Service to remember lawyers in this region who have passed away within the previous year. It occurs in the Ceremonial Courtroom of the Milwaukee County Courthouse and is attended by a variety of judges, lawyers, family of deceased lawyers, and others. When I was appointed dean in 2003, my friend, Tom Shriner, invited me to give the annual Memorial Address, in light of my association with the late Dean Howard B. Eisenberg, and I have tried to attend the event each subsequent year as well. This year, one of the "responses" to the Memorial Address (or remembrances) was delivered by Tom Cannon, director of the Legal Aid Society of Milwaukee and former faculty member of the Law School (see this previous blog post by Professor Blinka). Tom remembered his father, the late Judge Robert C. Cannon, L'41.
Here is a bit of the beginning of Tom Cannon's remembrance:
Dad was probably destined to become a lawyer. By the time he was born in 1917, his father was already emerging as an iconic figure in the legal profession. Dad's uncle, Ed Carey, was also a lawyer. And many of Dad's numerous cousins became practicing attorneys as well. These included the Jenningses, Foleys, Tierneys, Gillicks, and Flemings — all well-known, multi-generational legal families in Milwaukee.

One of Dad's earliest memories was sitting in a high-ceilinged courtroom in the ornate old Milwaukee County Courthouse on what is now Cathedral Square. His father was trying a case there against a cousin, Joe Tierney, Sr. As the sun streamed in through a bank of tall, stately windows, and crept toward the jurors' faces, Dad watched his father walk over and slowly draw the shades. Perhaps it was that early moment that influenced him to become a lawyer.
Tom's remarks are well worth the few minutes that it will take to read them — and to remember both Judge Cannon and others of our forbears who contributed much to society through the legal profession. You can find a link to them here.