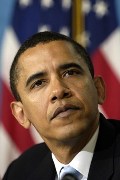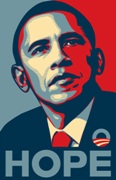 (This is the 7th in a series of posts on Fairey v. Associated Press. See below for other posts in the series.)
[Update (7/23): The court granted Garcia's motion to intervene, which was unopposed. AP's and Fairey's answers are due Aug. 14, fact discovery will continue until October, and the next status conference in the case will be Nov. 20, meaning we will most likely not get a summary judgement hearing until 2010.]
With the crunch at the end of the semester, my series on the Obama Hope poster case petered out unexpectedly. Among the events I noted silently to myself in the interim were Fairey's answer to AP's counterclaims and a trio of NPR interviews on the case with Shepard Fairey, Mannie Garcia, and law professor Greg Lastowka.
There's nothing like a fresh filing to get one out of the doldrums, however. On Thursday, the other shoe in this case dropped when Mannie Garcia, the photographer who shot the Obama photograph at issue, filed a motion to intervene in the case as a defendant. (Quick, Civ Pro students: what rule?) Garcia's proposed answer, counterclaims, and cross-claims assert that the photograph is copyrightable, that Garcia, not AP,  is the copyright owner in the photograph, and that Fairey infringed his copyright. I'll focus on two interesting aspects of the filing after the jump.
To get a couple of procedural issues out of the way, Garcia's motion will very likely be granted. He claims ownership of the photo, and this litigation will, among other things, determine AP's ownership rights in the photo and whether Fairey infringed it. Not only is he a mandatory intervenor under Fed.R.Civ.P. 24(a), but he's likely a necessary party under Rule 19(a)(1)(B)(i). Also, he's fulfilled the requirements of 17 U.S.C. § 411 by registering the copyright in his photo (Proposed Ans. ¶ 53). Garcia must have paid the $685 expedite fee for his registration because it was approved in at most 2 months, remarkable speed given the Copyright Office's current backlog. However, Garcia mistakenly asserts that he is entitled to statutory damages and attorneys fees if he wins on his infringement claim against Fairey. (Proposed Ans. ¶ 93.) Unfortunately not, because the infringement "commenced after first publication of the work and before the effective date of its registration," unless he can somehow argue that AP's group registration should suffice, even though it was apparently for a compilation.
Now for the two substantive points I want to focus on. First, as I've discussed in a prior post, the ownership issue between Garcia and AP is interesting in its own right. To sum up that earlier post, it seems that Garcia has a pretty good case that he was not an AP employee at the time he took the photo. If not, then the only way that AP could own the copyright is if Garcia assigned it to them in writing. Alternatively, the AP could try to argue that Garcia's photos were "specially ordered or commissioned for use as a contribution to a collective work," the "collective work" being the batch of photos that the AP registered the Obama photo as part of. (See Peter Hirtle's comment here.) But that would still require a signed, written agreement "that the work shall be considered a work made for hire." Garcia claims in his pleading that he was not an employee and "never agreed to assign his copyright rights in his photographs to the AP." (Proposed Ans. ¶ 56.) Unless AP can produce some sort of writing, I think they may be in trouble.

Second, Garcia has shed a little further light on what's copyrightable about his photo. In his counter- and cross-claims, Garcia expressly adopts the AP's statement of the creative elements of his photograph: (1) his selection of that specific moment to take the photo; (2) his choice of lens and lighting; and (3) his composition of the photograph. (Proposed Ans. ¶ 58, quoting AP Ans. ¶ 58.) Garcia himself breaks this down into a few more elements: "angle, focus, pose, lighting, depth of field and his selection of the proper facial expression, manner and demeanor of his subject." (Id. ¶ 82.) In his NPR interview, Garcia describes the moment (starting at 6:25):
I'm on my knees, I'm down low, and I'm just trying to make a nice, clean headshot. And I'm waiting, I'm looking at the eyes, I'm sure there's focus, and I want the background to be a little bit soft, I wanted a shallow depth of field, I'm looking, I'm waiting, I'm waiting for him to turn his head a little bit, I'm just patiently making a few pictures here and there, and I'm just looking for a moment when I think is right and I'm taking some images as I'm going along. And then it happened: Boom, I was there, I was ready.

There's enough creative choices here, it seems to me, to make the photograph copyrightable. Garcia chose where to place himself—the "angle"—although there were likely constraints on that. He chose which lens to use, shutter speed, aperture, and possibly whether or not to use a flash—all of which affected the "lighting" and framing of the shot. (Some commentators have correctly pointed out that the room lighting was not under Garcia's control, but the amount of light he let into the camera certainly was.) He framed the shot vertically around Obama's head and shoulders, and gave it a shallow depth of field to mute the background (which was, in part, an American flag—which was possibly intentional on Garcia's part).
There's a couple of other significant elements of choice. First, Garcia chose the moment to take the photograph. His interview with Terry Gross indicates that he was waiting for just such a moment to occur when he snapped the shot. This involved a little more discretion than taking as many photos as possible. As I've learned to my chagrin, every taken photo is a missed opportunity to take the shot a split-second later. There's therefore some amount of judgement involved in deciding exactly when to take the photo. (Or "make" the photograph, as Garcia puts it.)
Second, Garcia made another selection later that day. In reviewing the 275 photos Garcia took at the press briefing, he chose 16 to send to the AP. I.e., he selected the photo above and 15 others as being the best of the lot. (Aside: as Garcia explains in the NPR interview, this is why he didn't recognize his own photo: he takes thousands of pictures a year.) Prior caselaw in the Second Circuit suggests that these selections alone may be enough for at least a thin copyright, see, e.g., Kregos v. Associated Press, 937 F.2d 700 (2d Cir. 1991); Key Publications, Inc. v. Chinatown Today Publ'g Enters., Inc., 945 F.2d 509 (2d Cir. 1991), and Garcia's other choices add to the creativity involved. Among the judgement that went into his selection was one of whether to include Obama at all, since, as Garcia notes in his interview (4:56), it was 2006 and the assignment was actually to cover George Clooney, not Barack Obama.

The complaint played down the significance of Garcia's choices, portraying him as little more than a picture-taking machine. According to complaint, Fairey took Garcia's "literal depiction" that merely "document[ed] the events that took place at the National Press Club that day in April 2006" and "transformed" it into a "stunning" image the purpose of which was " to inspire, convince and convey the power of Obama's ideals, as well as his potential as a leader." (Compl. ¶ 18.) None of those qualities, in other words, are present in the original photo. But this seems clearly wrong, and I don't think the plaintiffs will win in their attempt to portray the Garcia photograph as minimally copyrightable. As a professional photographer, Garcia no doubt understood the meaning of his choices. Being down below a subject makes him or her seem more significant and regal; the fuzzy flag background added a suggestion of patriotism; Obama's slightly upward gaze and three-quarters profile reflected thoughtfulness rather than inattention. With the exception of the effects added by the poster-like coloration in the Fairey poster, the same qualities are present in both images.
There's obviously also some amount of serendipity in Garcia's photo, as captured by the conclusion of the quotation above: "Boom, I was there, I was ready." "I was there, I was ready," expresses the fact that, like a poker player, Garcia had deliberately put himself in a position to capture a good shot (in his judgement) if one occurred. But the "boom" expresses the fact that events were not fully under his control, as is true of most photography. This has troubled photograph copyrights since the beginning; how much of the photograph is due to the photographer, and how much to the subject or chance events? Abraham Zapruder set up a primitive movie camera to film a presidential motorcade, had trouble tracking the shot, and did not even realize until later that he had captured Kennedy's assassination. Ansel Adams was driving down a desert road and happened to see a great shot out the window. He couldn't find his exposure meter in time, and guessed. He tried to take a second exposure, but within a few seconds the sun had moved on and the lighting changed. The value of Zapruder's film seems almost entirely due to the event, and very little to do with his choices. It seems to lie at the periphery of copyrightable materials, if it is copyrightable at all. But Adams' famous "Moonrise" photograph was also significantly affected by chance, yet it is probably within the core of copyrightable materials. Where is Garcia's photograph? It seems to me that it is closer to Adams than Zapruder.

Other posts in this series:
Mannie Garcia joins the suit —This post
TK: What if anything is copyrightable about the photo? Does the poster infringe on that?
TK: Is the poster subject to a fair use defense?