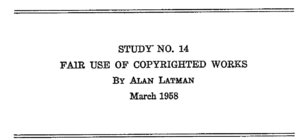 The AWF oral argument was yesterday morning — here's SCOTUSBlog's recap — but I'll save my thoughts on it for later. At the end of my last post, I had reached the 1950s. At that time, the term "fair use" was being used in a desultory way to refer to all instances of noninfringement, whether due to limitations on the scope of copyright or some sort of exception. As Arthur Weil put it, "'fair use' simply means a use which is legally permissive."
That was where things stood when the Copyright Office, in 1955, began to conduct a series of studies to pave the way for a thorough-going revision of the 1909 Copyright Act. The 1909 Act contained no reference to fair use at all; the doctrine was entirely a judicial creation. So one question was whether a new, revised copyright act should take official notice of fair use, and if so, what it should say.
The "fair use" study was assigned to a young attorney, Alan Latman, then a rising star in the copyright field. Latman's report was one of the key founding documents for what eventually became Section 107 of the 1976 Copyright Act, the fair use statute that we have today, and has been cited repeatedly by the Supreme Court in its attempts to divine the contours of fair use.
In his report, Latman immediately identified a significant problem with "fair use": what courts were referring to as a single concept was in fact two different things.