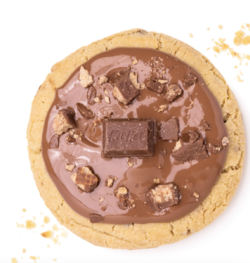 Besides offering delicious cookies that can be delivered straight to your door, Crumbl Cookie is bringing some interesting legal content to the news by filing trade dress infringement lawsuits against two other cookie companies. Crumbl claims that two smaller Utah business, Dirty Dough and Crave Cookies, are using packaging, logos, and designs that are confusingly similar to that of Crumbl, which could constitute infringement under the Lanham Act. In reference to Dirty Dough in particular, Jason McGowan, co-founder and CEO of Crumbl Cookies, posted on LinkedIn on August 29, 2022, alleging that "Dirty Dough has stolen trade secrets from Crumbl's internal database," including recipes, building schematics, statistics, training videos, and more. As redress, Crumbl is seeking monetary and injunctive relief in the District of Utah.
Adding another dimension to Crumbl's allegations, Dirty Dough's founder was a former Crumbl employee, and the owner of Crave Cookies had previously had their application to become a Crumbl franchisee rejected. Both individuals, Crumbl alleged, took Crumbl's packaging, marketing, advertising, and presentation in an attempt to profit off of Crumbl's trade dress and brand identity.
Crave Cookies has offered a statement to The Herald Journal, and has told others interested in the whole matter, that they find "no merit to the claims made by Crumbl and see this simply as an improper attempt by a threatened competitor to use a lawsuit to stifle fair and free competition and deny consumers a choice of products." Dirty Dough has made similar statements, and has garnered additional public attention by taking its fight to social media. Bennett Maxwell, founder of Dirty Dough, initially responded to Crumbl's allegations on LinkedIn:
 … A Billion dollar company suing 2 start ups. Why? Because apparently if you put sprinkles on your cookies, Crumbl thinks they own that. Watch out Grandma, you better throw away those sprinkles, or you will be Crumbl's next victim …
Dirty Dough's next step was a campaign of targeted billboards, which they shared on social media, speaking to the litigation and coining the hashtag #Utahcookiewars: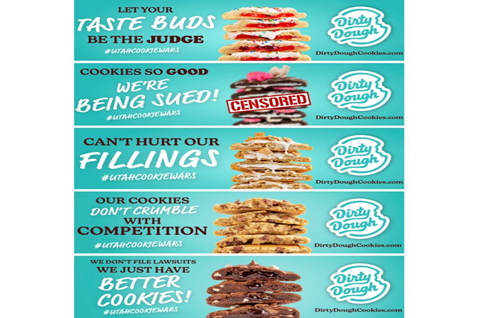 Is Crumbl taking everything a step too far, attempting to monopolize the gourmet cookie industry in Utah, or are they simply attempting to protect their unique business practices? And is Dirty Dough's social media and billboard campaigns bringing light to a frivolous lawsuit, or undermining the importance of ethical business practices in maintaining a fair marketplace?
While we wait for the courts to decide, or for a settlement agreement to be reached, the #Utahcookies wars will rage on and lawyers and consumers alike can sit back and watch the fight unfold on different platforms.