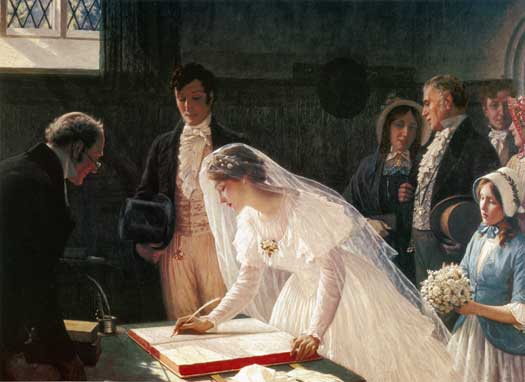 Yesterday's New York Times reports that there has been something of a reversal of marriage fortunes between men and women.  According to a recent analysis of census data by the Pew Research Center, "Men are increasingly likely to marry wives with more education and income than they have, and the reverse is true for women."  Although other studies have shown that there continues to be a gender gap favoring men in wages (meaning that women earn, on average, somewhat less than similarly situated men engaged in the same work), it appears that the average wage imbalance in a given marriage is likely to be in the opposite direction.  Trends in the last year have exacerbated this imbalance, since men were far more likely than women to lose their jobs in the recession.  The report also notes that in married couples "wives contribute a growing share of the household income, and a rising share of those couples includes a wife who earns more than her husband."
It is interesting to speculate on the impact these trends will have on marriage and divorce. 
It is possible that there will be fewer marriages, since fewer women will be motivated to marry for economic security as was common in days gone by.  In fact, the article acknowledges that marriage rates have declined in recent years.  The data are hard to interpret, though.  On the one hand, women who have college degrees are more likely to marry than are women who don't have college degrees.  On the other hand, anecdotal evidence like that reported in the article indicates that educated women feel that many men are threatened by the prospect of having a higher-earning wife.  Some of these women would like to be married, but haven't found any takers yet.
It is also possible that this trend will further reduce the number of divorce cases involving alimony awards to women, and possibly increase alimony awards to men.  Alimony was originally conceived as a continuation of a husband's support of his ex-wife once the marriage ended, and came from a time when women's opportunities for self-support were few.  Eventually, the law evolved so that alimony could be awarded to the lower-earning spouse, whether the husband or the wife, to maintain that person at some semblance of the marital standard of living or to obtain the job skills to be adequately self-supporting.  Despite the gender neutrality of the modern concept of alimony, only a small minority of alimony awards are currently made to ex-husbands.  Over the past several decades, alimony awards (whether to men or women) have been fewer and for shorter periods of time – a result that is consistent with evidence that women are more likely to be the higher earners in many marriages.
Theoretically, we could see alimony awards remaining constant, while seeing a shift in awards away from ex-wives and towards ex-husbands.  I suspect that there will be significant resistance to this happening, because the notion that men "should" be breadwinners is still quite strong in this society.  The Pew Research Center report also states that only the wife worked in seven percent of households last year, up from five percent in 2007.  These numbers were higher in African-American households, where twelve percent had only the wife working last year compared to nine percent in 2007.  The husband is a breadwinner in a large majority of households, and this is in keeping with our social expectations.  There continues to be a gender stereotype that makes it difficult for men to successfully seek alimony from their working ex-wives.  The fact that more men have lost their jobs in the Great Recession, coupled with the fact that financial woes put a strain on marriages, may challenge the traditional gender expectations.  Perhaps more of those better educated, higher-earning wives will become ex-wives with alimony to pay.