On August 26, MULS welcomed the Class of 2013, hosting a welcome mixer in the atrium of Eckstein Hall, the new home of the law school.  During this event, Dean Joseph Kearney unveiled a portrait of Abraham Lincoln created by visual artist Don Pollack.  A few days later, the painting was hung in the Aitken Reading Room on the third floor of the new building.
The portrait uniquely places Lincoln reading the newspaper within a horizontal vista next to stacks of books which represent the learned man on his campaign trail many days before he became the sixteenth president of the United States.  Professor Michael McCrystal explains that MULS commissioned this painting of Lincoln to symbolize the importance of reading: "Although we mean the building to be very contemporary in most respects, the intent of the reading room is to draw on strong academic and legal traditions to inspire students to serious work, and a Lincoln portrait seemed to serve this theme."
The image seeks to capture Lincoln the great lawyer and the great reader.  It also serves as a reminder that the former president spoke of the importance of reading when on September 30, 1859 he addressed the Wisconsin State Agricultural Society, right in the same spot where the Marquette campus now sits.  On that day, Lincoln remarked,
"A capacity, and taste, for reading, gives access to whatever has already been discovered by others. It is the key, or one of the keys, to the already solved problems. And not only so. It gives a relish, and facility, for successfully pursuing the [yet] unsolved ones."
The idea of learning the answers to old problems rings true today, as an appreciation for Lincoln's legacy knows no borders and continues to teach important lessons across the globe.  Indeed, Lincoln offers a vision for countries seeking to recover from devastating internal armed conflicts.  Pollack's own painting joins the collection of hundreds of portraits of Lincoln hung on walls around the world, from Italy and Germany to Ghana and Vietnam.  As the artist explained at the unveiling, "Lincoln is not a static memory" but rather a contemporary example of a "great unifier" for countries dealing with internal division and tension.
Pollack himself learned about Lincoln's legacy while attending the Global Conference on Abraham Lincoln at Oxford University in July 2009.   He recounted the opening remarks made by Ellen Johnson-Sirleaf, president of Liberia who offered Lincoln as a "contemporary model for a nation in transition" drawing parallels between the Civil War and Reconstruction in the United States with the current struggles of her own country to recover from a fourteen year internal armed conflict.  Pollack explained that for Johnson-Sirleaf, Lincoln represented the possibility of wisdom, tolerance, optimism and hope.  But above all else Lincoln's experience teaches other countries that out of ashes countries can build the rule of law and a culture of human rights.   These are possibilities that we take for granted but which in countries like Liberia must be built from the 'ground up'.
Johnson-Sirleaf, who received her B.A. from the University of Wisconsin in 1964, inherited a country devastated by ethnic war led by Charles Taylor who now stands trial for war crimes before an international tribunal.  Taylor went into exile in 2003, allowing the country to sign peace accords with rebel groups and eventually establish a Truth and Reconciliation Commission which released its report in 2009 (https://www.trcofliberia.org/reports/final).
In my own Transitional Justice course, I teach not only about countries like Liberia but also about our own Civil War and the struggles of Lincoln.  I save this topic for last, however, to allow the students to appreciate that we, like so many nations across the world, also had to struggle for these principles.  At the same time, I try to convey to the students that the quest for tolerance, peace and human rights never really ends and that we must be constantly vigilant to practice law in a way that both celebrates and protects these values.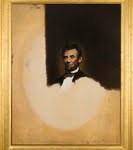 This lesson arises not only from the books we read, but the art we view.  Pollack's other portrait of Lincoln (image at right; painting at the Abraham Presidential Library and Museum in Springfield, Illinois) is based on Gilbert Stuart's unfinished Washington Athenaeum portrait.  Pollack explains, "It is a finished painting meant to look unfinished and intends to point towards our history, as well as Lincoln's (and our) unfinished civic work."
Indeed,  Lincoln's legacy includes both solving some of the most pressing problems in our history, but leaving still those "unsolved ones" for new generations to attend to so that Lincoln's vision remains an inspiration for others around the world.