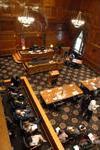 Please congratulate the winners of the 2011 Jenkins Honors Moot Court Competition:  Susan Barranco and Kyle Mayo.  Congratulations also go to finalists Matthew Hall and Nicholas Zepnick.
Sue and Kyle received the Franz C. Eschweiler Prize for Best Brief. Sue received the Ramon A. Klitzke Prize for Best Oral Advocate.
Special thanks to the judges of the final round: the Honorable Carolyn Dineen King, the Honorable Barbara Crabb, and the Honorable Patricia Gorence.
We are also very grateful for the assistance of the semifinal round judges: the Honorable Lisa Neubauer, the Honorable Paul Reilly, the Honorable Michael Bohren, the Honorable Donald Hassin, the Honorable Dennis P. Moroney, and Attorney Kent Tess-Mattner.
Finally, thank you to the numerous preliminary round judges and brief graders. The time and support of all of our judges is greatly appreciated.