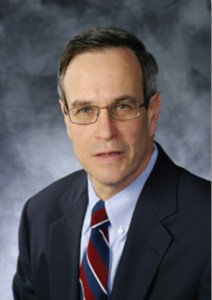 Nathan Fishbach, shareholder at Whyte Hirschboeck Dudek, received the Eastern District of Wisconsin Bar Association's Judge Myron L. Gordon Lifetime Achievement Award today. That itself might be worth recording in these annals (cf. Prof. Jessica Slavin's blog post from two years ago concerning awards by the EDWBA to Michael O'Hear and Tom Shriner). For Nathan has been a member of our Advisory Board and otherwise a great friend of the Law School.
But permit me to note that the Law School was allowed to share in the honor in an important (and lasting) sense. For Nathan's firm, Whyte Hirschboeck Dudek, announced today that it will use the occasion of Nathan's award to honor him by creating the Nathan Fishbach Student Development Fund at Marquette Law School. My role in this is small (being on the receiving end of a gift or saying "thank you, yes" is easy), but I wish to elaborate on this matter a bit.
Nathan is a highly skilled attorney, with extensive litigation experience on behalf of—and thus demands on his time from—the federal government, commercial interests, and private individuals. Yet even in the press of business, he has struck me with his interest and investment in the future of the profession. An important example of this was his work a decade ago in the founding of the Eastern District of the Wisconsin Bar Association.
Along these same lines, his interest in Marquette Law School has been especially outstanding. A graduate of Villanova Law School, Nathan has been a great champion of our students, speaking to classes, mentoring them individually, and taking the interest—and time—to work with them on their career development.
The Fishbach Fund, created at the Law School by Whyte Hirschboeck Dudek, will support our bringing in speakers, from Wisconsin and across the country (indeed, the world), whose experiences and counsel will help future law students gain a greater sense of the profession into which they are entering. It will also provide for programs, workshops, or other opportunities designed to promote a greater integration between Marquette law students and the profession. That we have been historically good at such integration means that this sort of gift should help us reach for greatness.
Thank you to Nathan for being an engaged exemplar over the years, and to the attorneys of Whyte Hirschboeck Dudek for their selecting Marquette Law School as the place to perpetuate Nathan's honor.