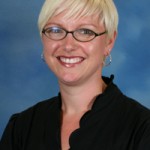 Last week, Kristin Lindemann (2L), received the Milwaukee Bar Association's Law Student Pro Bono Publico Award. Kristin was honored at the MBA's State of the Court luncheon, where she received her award in front of large group of judges, lawyers, and law students. Kristin's commitment to pro bono service is quite remarkable and something that we as a law school community should celebrate.
Kristin's work the Marquette Volunteer Legal Clinic (MVLC) at the Milwaukee Justice Center is especially impressive. Every Friday for the past eighteen months, Kristin has volunteered with the MVLC, helping low-income clients by explaining the clinic's services, conducting intake interviews, and performing on-the-spot research about the law and community resources. Additionally, Kristin is now a student coordinator for the MVLC. In that leadership role, Kristin has helped design and implement new student training programs, and she has improved organizational systems within the clinic. Kristin recruits new volunteers and is an enthusiastic ambassador for the MVLC.
Kristin has also dedicated her time and energy to pro bono efforts by assisting low-income clients at the Legal and Medical Partnership (LAMP) at the Martin Luther King Heritage Health Center. In that capacity, Kristin provided brief legal advice and helped complete complicated paperwork to improve access to justice for clients.
Kristin began her legal education as a part-time student. While in the part-time program, Kristin worked nearly full-time as an esthetician who owned her business. Despite this incredibly full schedule, Kristin managed to devote substantial, productive hours to pro bono work, receiving no pay or academic credit for these efforts. I am truly inspired by her work.
Congratulations, Kristin.