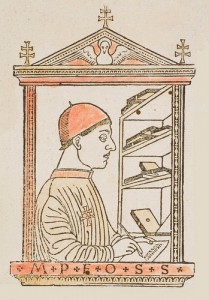 Yale Law Library's Rare Books Blog announced the posting of a photo gallery of legal authors. Rare Book Librarian Mike Widener writes:
The star of the gallery is the portrait at [left], of Paolo Attavanti (1445?-1499), generally considered to be the very first author portrait to ever appear in a printed book. The woodcut appears in a summary of canon law that Attavanti authored, Breviarium totius juris canonici (Milan: Leonhard Pachel and Ulrich Scinzenzeler, 28 Aug. 1479). As such, it is the granddaddy of the author photos on today's dust jackets.
If your interest in legal portaits is piqued, you may want to review Otto Vervaart's article on researching legal portraits, The telling image: searching for portraits of lawyers. Of course, you may want to wait until after final exams.