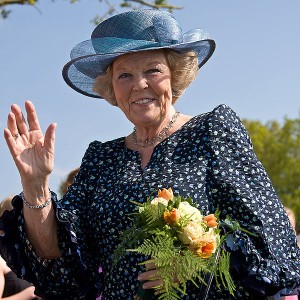 Kings, queens, princes and especially princesses are subjects of eternal fascination.  From fairy tales to the Sissi movies to glossy royalty magazines, we can't seem to get enough of royalty. And as Amsterdam is getting ready for Queen Beatrix's abdication and the investiture of King Willem-Alexander, I feel some pangs of regret about not being around other Dutch people during this last Queen's Day. This sentiment took me by surprise: Not only have I never attended a Queen's Day party since I moved to the United States, but I am also not a monarchist.
My objections to the Dutch monarchy stem in no small part from the undemocratic nature of an unelected head of state. The notion that my fellow Dutch citizens and I are "subjects" of our queen or king seems not only outdated, but also fundamentally at odds with self-government. Even those who defend the monarchy tend to emphasize its ceremonial character–which, ironically, makes it harder to justify the significant expenses associated with the institution.
Moreover, there is something troubling about inherited titles generally, and this is even more the case when titles are attached to positions of power or even influence. At least until the Netherlands abolishes its monarchy, Dutch citizens get stuck with whichever member of the royal family is destined to take the throne (although I have no doubt that a solution will be found if a presumptive heir turns out to be truly unacceptable). The lack of choice, however, cuts both ways, and heirs apparent don't have much say in the matter either. Sure, Willem-Alexander's oldest daughter Princess Amalia could relinquish her entitlement to the throne. But that would involve defying the expectations pinned on her by an entire country from the time her mother's pregnancy was announced. Moreover, her presumptive vocation has already cast a tremendous shadow over her childhood. Imagine always knowing what you will do with your life; not as a result of a strong inner calling, but because your future is laid down in your country's Constitution. Who would want to trade places with her?
At times, members of the Dutch royal family provide a glimpse of the burdens that come with an inherited destiny. When Queen Beatrix ascended the throne in 1980, she said: "This is not an office that one acquires. No human being would ask for this vocation." And Prince Willem-Alexander's younger brother Friso (who, sadly, is in a coma as a result of a skiing accident) once remarked as a child: "If you want to beat up Willem-Alexander, fine, go ahead. But please don't kill him, because then I have to become king."
It is hard to muster sympathy for ultra-wealthy monarchs and their families when millions of people are struggling in conditions of extreme poverty and violence. Yet constitutional monarchies impose substantial restrictions on royalty members, especially those who are in line to succeed to the throne. In the Netherlands, the prime minister and his or her cabinet are accountable for statements made by members of the royal family. In practice, this means that members of the royal family cannot speak freely. Partner choice, births and funerals become state affairs. In an op-ed in the New York Times, Dutch author Arnon Grunberg argued (in jest, although his underlying points are serious indeed) that since the function of royalty is now essentially a form of public theater, the Dutch may as well hire actors at a fraction of the cost. But the appeal of kings and queens is precisely that they did not apply for the job. That is the pact between paid royalty and their subjects, and I think it is ultimately an inhumane one.
Despite—or maybe because of—all these things, I will engage in a modest and solitary celebration of this last Queen's Day. My Facebook profile features tulips and lots of orange, and I plan to watch at least some of the news coverage about the investiture. And I will raise a glass to Queen Beatrix's formidable performance in this strange job for which she never applied.