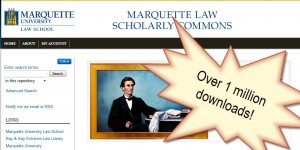 The law school's repository, Marquette Law Scholarly Commons, was formally announced on the Faculty Blog on August 8, 2012. Less than a year later, Marquette Law Scholarly Commons celebrates its 1,000,000th download! Researchers from all over the world have downloaded articles from the repository. The following twenty countries have the highest download count (from most downloads to least): United States, United Kingdom, India, Canada, Italy, Philippines, Australia, Malaysia, Tanzania, Ghana, Singapore, Pakistan, Colombia, South Africa, Hong Kong, Nigeria, Russian Federation, Kenya, Poland, and France.
The one millionth article downloaded was Freedom of Contract and Fundamental Fairness for Individual Parties: The Tug of War Continues, by Professor Carolyn Edwards. Professor Edwards has been a member of the law faculty since 1974. She was a Woodrow Wilson Fellow in philosophy at the University of California – Berkeley and is a member of Phi Beta Kappa. She is a graduate of the University of Toledo College of Law. Professor Edwards teaches contracts, sales, secured transactions, and negotiable instruments.
Please join us in celebrating this milestone by visiting the Marquette Law Scholarly Commons and browsing our collections.