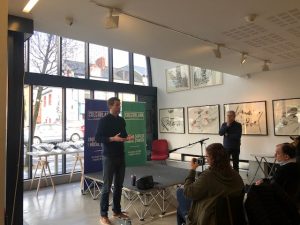 After some longer days of travel, the group took a welcomed short trip to Cultúrlann – the Irish Language Center – in Belfast. For 3L Margaret Spring, this "was one of the most rewarding experiences of our trip." She recalled the visit "reminded me that no matter how much a culture tries to be erased, it will not and cannot happen."
Nim Nannan accounted "Culturlann is a great representation of the Irish's determination to preserve and promote their language and culture. When a people are colonized, one of the first things the colonizers do is restrict the colonized sense of culture and identity to prevent the promulgation of both in future generations as to quickly assimilate them into their own. The founders of Culturlann formed the community center in direct opposition of this agenda by the British government." She added, "the founders started both Irish language schools and a community center without government support and both continued to flourish as future generations took up the cause."
After having the opportunity to explore the center and speak with current Culturlann director – and product of the Irish language school – Ciarán Mac Giolla Bhéin, the group piled into one of the classrooms to meet with first with two former IRA combatants who were now involved in both local politics and peacebuilding.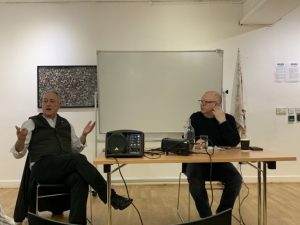 It was fascinating to hear from them and I particularly appreciated their discussion of how learning from South Africa and Nelson Mandela helped the IRA move toward peace and, most importantly, learn how to prepare their own people for peace.
They also had some of the memorable quotes including "anybody that doesn't regret conflict is an idiot" and, in discussing the impact on their children, one noted that "one daughter is a mad socialist while the other is a royalist who can tell you the weight of the last royal (British) baby."
Our final speaker was a representative from PPR Ireland. Located in Belfast, PPR supports groups in using a "unique Human Rights-Based approach to tackle issues challenging them," Meg McTigue recalls. In their words, PPR puts the power of human rights at the service of those who need it most (and, to me, demostrated Jen Reynold's A is for Activism theory of ADR). They support marginalized people to assert their rights in practical ways and make a real social and economic change in their communities. 2L Breanna Moe notes "this group works tirelessly for suffering those in the community."
During the course of the presentation, PPR demonstrated their work using a number of case studies, including one illustrative of their commitment to the Right to Education.  In April 2014 PPR was approached by a campaigning group of parents from north Belfast whose 122 children attend Coláiste Feirste, the only Irish language middle school in the north of Ireland. They argued that the failure to provide public transport to the school was not only costing parents a significant amount of money, but it was also negatively impacting on the development of Irish language education by effectively preventing parents from enrolling their children in the school. PPR launched a campaign to gain bus service for the 122 children, using a series of tactics including marches, demonstrations and ultimately a meeting with the Ministry of Education. Before the start of the following school year, PPR and the local community had secured transportation for all students, helping to reduce the cost and increase access to the only Irish medium school.
For Moe, "it made me sad to hear a local government ignore both the needs and wants of its community. In particular, I was sad to hear the local government was essentially standing in the way of children learning a second language. Especially when that language was once the lifeblood of that culture and community. Coming from Milwaukee where there are several language immersion schools, it is hard to imagine a place where that same is not readily ascertainable. With respect to their creative marketing, I found their methods to be unorthodox, but highly effective, nonetheless. Good on them."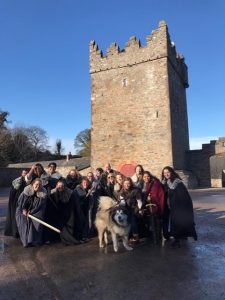 The day ended a bit early and the group had some free time to explore the many offerings of the greater Belfast area – many tried their hand at archery in Winterfell…
…and two even negotiated their way into a private tour of the Royal Courts of Justice!