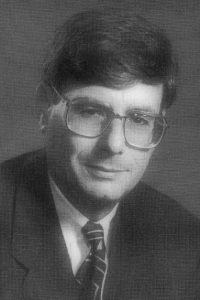 Howard B. Eisenberg, dean of Marquette Law School from 1995 to 2002, died nineteen years ago today. That number may not have independent significance or resonance (unlike, say, 18, in Jewish tradition as I understand it, or 20, for a round number), but we may agree that it is now some time ago. Yet no one will doubt that Howard's spirit—indeed, legacy—lives on here at the Law School, even in Eckstein Hall, opened more than eight years after his death.
Our Office of Public Service, which we created in 2006 and now house in the Howard B. Eisenberg Suite, has been our most significant institutional effort to ensure his legacy of "doing good," as Alan Borsuk noted as recently as a week ago, in this Marquette Lawyer article. In light of this evidence surrounding us all, there seems no need to post at length on his yahrzeit. "Si monumentum requiris, circumspice," one is tempted to say (well, I am, anyway).
Yet I wanted to use this blog to mark the anniversary, pointing anyone interested to two previous posts: one by me, twelve years ago today, whose virtue is that it contains a link to the wonderful 2002 special issue of the Marquette Law Review, remembering Howard in so many different ways (and through so many different eyes); and the other a decade ago, by our longtime colleague, now-retired Professor (and Justice) Janine P. Geske, whose welcome advantage is that it enables you to hear Howard's very voice on a special topic: "What's a Nice Jewish Boy Like Me Doing in a Place Like This?"
May his memory be for a blessing.