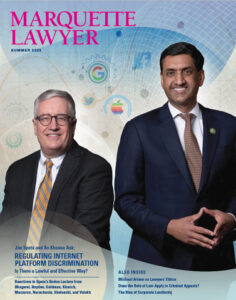 Nearly everybody uses the internet every day and, for many us, all day long. It is ubiquitous and, looked at from a long-term perspective, an amazing part of our lives. It is also far from perfect. Can it be made better?
A core aspect of addressing that goal is the prime focus of the Summer 2023 issue of Marquette Lawyer magazine. In the cover story, "The Past's Lessons for Today: Can We Get to a Better Internet?," James B. Speta, the Elizabeth Froehling Horner Professor of Law at Northwestern University, looks at whether common-carrier principles could be applied, in an artful and appropriate way, to combat domination of the internet by a small number of giant platforms. Speta's piece is an essay version of the Robert F. Boden Lecture he delivered at Marquette Law School this past academic year.
Speta's analysis and suggestions are accompanied by responses from eight other legal academics with a wide variety of experiences and perspectives (in order of presentation):
Kate Klonick, St. John's University
Ashutosh Bhagwat, University of California, Davis
Sari Mazzurco, SMU Dedman
Eugene Volokh, UCLA
Howard Shelanski, Georgetown
Tejas N. Narechania, University of California, Berkeley
Eric Goldman, Santa Clara University
Bruce E. Boyden, Marquette University
The presentation is capped by thoughts from Congressman Ro Khanna of California, a leading figure in policy discussions about improving the internet. Khanna offers his ideas in an interview with Speta.
The full set of pieces on internet issues may be read by clicking here.
The new Marquette Lawyer also includes a probing discussion of the duties and obligations of lawyers, focused on a new book by Michael S. Ariens, L'82, who serves as the Aloysius A. Leopold Professor of Law at St. Mary's University in San Antonio, Texas. Ariens's book—The Lawyer's Conscience: A History of American Lawyer Ethics—is described in the opening section of the article.
There then follow pieces engaging with Ariens's book from three Marquette Law School faculty members—Peter K. Rofes, Rebecca K. Blemberg, and Nathaniel Romano, S.J.—and a pertinent excerpt from a 1982 law review article by the late Robert F. Boden, L'52, during his long tenure as dean of the Law School.
The whole package, titled "Acting in the Best Interests of Client and 'King,'" may be viewed by clicking here.
Ellen Henak, a well-known criminal defense attorney and former adjunct professor at Marquette Law School, is retiring. As she draws her practice to a close, she offers careful but candid and provocative thoughts in a piece titled "Unretiring Thoughts from a Retiring Criminal Defense Lawyer," which may be read by clicking here.
John D. Johnson, research fellow at the Marquette Law School Lubar Center for Public Policy Research and Civic Education, has done groundbreaking work analyzing significant shifts in property ownership in Milwaukee. He brings together much of his work in an article, "The Rise and Impact of Corporate Landlords." It may be read by clicking here.
Any change in the faculty and staff of Marquette Law School is important, but retirements of two pillars of the Law School and appointments to two major positions are of particular note. In a set of short profiles, titled "Great Appreciation . . . and Great Anticipation," we first say thank you to Professor Tom Hammer, L'75, and Associate Dean Bonnie Thomson, each of who has served for several decades. And then we welcome Derek Mosley, L'95, who was named director of the Lubar Center for Public Policy and Civic Education after serving as a Milwaukee municipal judge for 20 years, and Mary Triggiano, who will lead the Law School's Andrew Center for Restorative Justice after serving as a judge of the Milwaukee County Circuit Court since 2004 and as chief judge since 2020. The four profiles may be read by clicking here.
In his column, titled "Leadership and Mission at Jesuit Schools Today," Dean Joseph D. Kearney focuses on Marquette University President Michael R. Lovell and Katie Mertz, L'11, director of pro bono and public service at the Law School. Lovell recently honored Mertz with a Marquette University "Difference Maker" award. The column may be read by clicking here.
Finally: the Class Notes describe recent accomplishments of more than 30 Marquette lawyers and may be read by clicking here, and the back cover (here) makes a point about the Marquette Law School Poll.
The full magazine may be read by clicking here for the PDF or here for the "interactive" version.