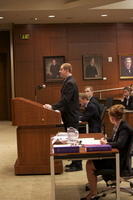 Moot court in 2012 certainly isn't quite the same as it was for those of us in the Class of 1977. Indeed, moot court is as advanced and spectacularly nouveau as is Marquette Law's remarkable new edifice: Eckstein Hall.
After five spinal fusion surgeries and two years in the Heart Transplant Program at the University of Miami Hospitals, I returned to MULS during late October 2011 to reconnect with my law school alma mater.
Dean Matt Parlow invited me to help Professor Melissa Greipp by using my 30 years of experience in appellate matters to coach MULS students in the national moot court teams. Professor Greipp welcomed me warmly, and this has been a most rewarding experience.
The positive, numerous expansions of the Marquette moot court program in 2012 are impressive. Permit me to compare briefly my experience in 1977 to the most recent 2012 Spong and Jenkins Honors Moot Court competitions.