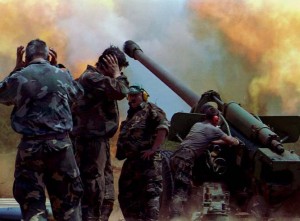 Last month, the International Criminal Tribunal for the Former Yugoslavia (ICTY) heard oral arguments in the important case of Prosecutor v. Gotovina.  The case concerns the decisions of General Ante Gotovina, the commander of Croatian forces during Operation Storm in August of 1995.  The case's outcome may have far reaching implications on the practical application of the law of armed conflict.
The Gotovina prosecution arose out of Operation Storm, a massive Croatian military effort to retake Serbian controlled areas of Croatia.  In brief, and painting with a broad brush, it came in the wake of the Srebrenica Massacre, which later the U.N. Secretary General called the worst crime in Europe since World War II.  At Srebrenica, Serbians under Ratko Mladic murdered over 8,000 Bosnian men and boys in an effort to drive Bosnians from the area.  Operation Storm came on the heels of the massacre, and was an overwhelming success.  The Serbian forces were devastated.  Their leaders were forced to the negotiating table, and the peace accords soon followed.
After the war, the ICTY's Office of the Prosecutor indicted Gotovina for war crimes arising from the targeting decisions he oversaw while commanding his forces in Operation Storm.  Gotovina went into hiding, but he was apprehended on December 7th, 2005.  On April 15, 2011, the ICTY Trial Chamber convicted Gotovina, concluding that he deliberately executed indiscriminate attacks during Operation Storm resulting in civilian deaths.
The potential significance of the Trial Chamber's judgment, and the pending appeal, cannot be overstated.  As an Emory panel of experts offered, "[T]he manner in which [the law] is enunciated and applied in the Gotovina judgment has extraordinary import for future operations and conflicts.  The case is apparently the first – and likely the only – case assessing complex targeting decisions involving the use of artillery against a range of military objectives in populated areas during a sustained assault." Continue reading "Artillery on Appeal: Proportionality and the International Criminal Tribunal for the Former Yugoslavia"