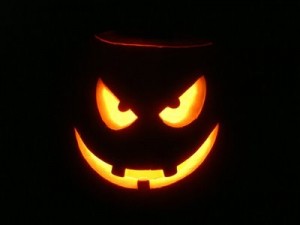 It's Halloween, so children have dreams of scaring adults, and adults have nightmares about other adults harming children. Lawmakers in Missouri this year have been concerned about a particular kind of harm: sexual offenses against children. They passed a state law that prohibited convicted sexual offenders from having any "Halloween-related contact with children," and required the offenders to remain at their homes on Halloween night between the trick-or-treat hours of 5 p.m. to 10:30 p.m. unless they have "just cause" for leaving. The law did not define either "just cause" or "Halloween-related contact." The law also required sexual offenders to turn off any porch lights and to post signs stating "no candy or treats at this residence."
On Monday a federal judge issued an order blocking most parts of the statute as unclear, leaving in place only the provisions requiring that porch lights be extinguished and that there be a sign announcing that no candy would be given out at the offenders' residences. Opponents of the law had argued that it was unclear; for example, did it prohibit contact between the sexual offenders and their own children on Halloween even if such contact would not be prohibited on other days? Would a convicted sexual offender have to avoid the decoration section of stores if children were there picking out their pumpkins? Opponents also argued that the law was an unfair double punishment for a crime for which a sentence had already been served.
Did the court make the right decision? I would say yes.