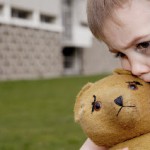 Probably you are familiar with some version of the old philosophical riddle "If a tree falls in the forest and there is no one there to hear it, is there still a sound?"  Today's question is similar: "If a child is maltreated but the maltreatment is not reported to authorities, does it still count as child maltreatment?"
I do not mean to be flip.
One of the perennial controversies in child protection circles is how high the rate of child maltreatment actually is, and the answer is never straightforward.  It depends on how we define abuse and neglect (physical, emotional and sexual), how we measure it (Third party reports? Self-reports by victims or perpetrators? Arrests? Convictions?), and whom we think it affects (Poor people? Addicts? Members of certain minority groups? Everyone?)  A lot rides on the answers to these questions, from public funding to public attention to the issue, and the answers often vary from time to time and place to place.
There are, however, some areas of agreement.