This semester in Professor Lisa Mazzie's Advanced Legal Writing: Writing for Law Practice seminar, students are required to write one blog post on a law- or law school-related topic of their choice. Writing blog posts as a lawyer is a great way to practice writing skills, and to do so in a way that allows the writer a little more freedom to showcase his or her own voice, and—eventually for these students—a great way to maintain visibility as a legal professional. Here is one of those blog posts, this one written by 2L Mitch Raasch.
In Products Liability class with Professor Kircher this semester, we often discuss manufacturing and design defects and companies' requirements in making safe products. Since starting this course, I have often found myself analyzing news stories for potential products liability cases. So, when I read about last week's tragic incident in which a woman died after an engine in a Southwest Airlines plane exploded, I naturally thought about the potential liability that multiple parties might face.
The Southwest Incident
The Southwest airliner was a twin-engine Boeing 737 travelling from New York to Dallas. One of the windows was struck by debris from a blown engine, causing passenger Jennifer Riordan to get pulled partially out of the opening. She later died from her injuries, and seven others were injured.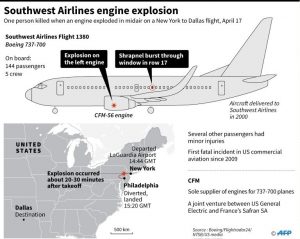 The last passenger death on a U.S. commercial flight was in 2009, so the amount of media coverage the incident has garnered comes as no surprise. Nearly all of us have flown commercial, and we expect that each aircraft has gone through in-depth inspections prior to takeoff. But are engine makers and commercial airliners fulfilling their duties under the law? 
The Investigation
The National Transportation Safety Board (NTSB) said that a preliminary examination of the engine showed evidence of metal fatigue, but that a full investigation will last up to fifteen months. Debris from the engine, which is manufactured by CFM International, should have been prevented from flying out by the engine's metal cowling.
There are a number of different possibilities as to why the metal cowling failed to operate as it was intended. Continue reading "The Southwest Engine Explosion and Products Liability"