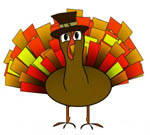 The Thanksgiving Holiday brings about the annual reminder to take a moment to reflect and to say thank you. So, be sure to thank those around you!
First, thank you to the MULS community because without all of you I would not be where I am today. To my professors, thank you for challenging me even though there are days when I would prefer you did not! You all have instilled in me a deep appreciation for the law and for Marquette. Sometimes it goes unsaid but thank you for all that you do.
Second, thank you to my classmates. Although some I do not know, I will leave law school in a short while having made friends that I consider family. So, whether we were friends in class, competitors in moot court, or friends for life, thank you!
Third, thank you to the Milwaukee community. You all have provided endless opportunities in legal work, volunteer work, and fun! Thank you to all of the firms, government agencies, nonprofit organizations, and others who employ MU law students. The experiences are priceless. I am happy to call Milwaukee home for many years to come!
Last, but definitely not least, thank you to my family. Without your patience, your support, and your love I would not be where I am today.
Thank you and Happy Holidays to everyone!