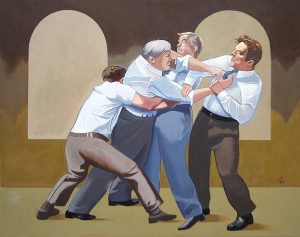 I was recently posed an interesting question which I thought would make a great topic for discussion and,while I'm unsure of how this post will be received on the faculty blog, I hope it will spur conversations as interesting as those I've had about the subject over the past month.
Next year I will graduate from Marquette Law School along with my fellow classmates. What is particularly noteworthy about our class is that, having first come to campus in the summer of 2017, we will be the first class to graduate who started law school under the current presidential administration. Whether you voted for Donald Trump or not, one cannot deny that his presidency has created an interesting climate not just in politics, but for the law in general. So, I was left to ponder how that interesting factoid has colored my law school experience and might affect the legal field for first year lawyers next year and in the near future.
My first intuition when pondering that question was to discuss how divisive politics and social media appear to be impacting the teaching and practice of law, but I can't presume that my class is novel in thinking that these are tumultuous times in the legal field. I can't personally speak to the law school climate in the past, but in my own experience being a law student can be a bit a political minefield, especially outside of Eckstein Hall.  Throughout my time in law school, all of my friends and family have been eager to ask me about or to debate about constitutional issues the president has raised that month. But that is almost to be expected, as I have been told by some of my family members who are in the field.
What I was not prepared for was how politics would influence my interactions in my various intern experiences as well. Continue reading "The Class of 2020: The First of a New Generation"