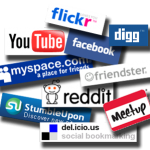 I first want to take a moment to thank the Marquette Law School Blog editorial faculty for inviting me to be the alumni blogger this month. I have enjoyed the content the MULS blog has offered since its inception, and I am honored to now be a part of it.
I primarily practice in management-side, labor and employment law in Wisconsin, but I have a special interest in how social media interacts with these practice areas. My posts will focus on various ways that social media collides with the law in this respect and others.
As a side note, I not only observe social media but I am a user, too. You can follow me on Twitter @jesse_dill. I typically Tweet about developments dealing with labor and employment law, Milwaukee, and the occasional grumblings about how my favorite teams are not meeting my perfectly reasonable (read: exceedingly high) expectations.
Social media services like Facebook, Twitter, LinkedIn, FourSquare, Instagram, and the like have quickly become the hot topic in my line of work because of their widespread use among employers and employees. Whether an employer wants to utilize a service for recruiting purposes or try to regulate its use by employees in the workplace, a host of fascinating issues arise while attempting to apply old legal theories to these new devices. Continue reading "Here's My Invite, so Friend Me, Maybe? Changing Notions of Privacy in Social Media"