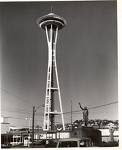 After forty-one years of playing in Seattle as the Supersonics, the owners of the franchise this season relocated the team, with NBA approval, to Oklahoma City, where it is currently playing as the Oklahoma City Thunder.  Although the city of Seattle is left without an NBA team, public uproar over the move seems to be at a minimum.
In fact, it is now clear, if it weren't already, that football and baseball occupy a different place in the sports landscape than basketball and hockey.  Nowhere is this more apparent than in the arena of franchise relocation.  When an NFL or MLB team relocates, a movement begins among the representatives of the area losing its team to convince Congress to take away the ability of the teams and leagues to control the location of their franchises.  Sympathetic fans in unaffected cities rally to the cause and Congressional intervention suddenly seems a real possibility.  This happened in the 1960's and early 1970's when Milwaukee, Kansas City, Seattle, and Washington, D.C., lost their major league baseball franchises, and it happened in the 1980's and 90's when NFL teams in Oakland, Baltimore, Arizona, Cleveland, and Houston moved to new cities offering more lucrative places to play.
In each case, Major League Baseball and the NFL dodged a regulatory bullet, but only because they permitted or arranged for new teams to replace the ones that had abandoned their home cities.  Thus, Milwaukee lost the Braves and got the Brewers; Kansas City lost the Athletics but got the Royals; Seattle lost the Pilots but got the Mariners; Oakland lost the Raiders and then got them back; Baltimore lost the Colts but got the Ravens; St. Louis lost the Cardinals but got the Rams; Cleveland lost the Browns but got the new Browns; and Houston lost the Oilers but got the Texans.  Had the leagues not moved relatively expeditiously to replace the moving franchises, direct Congressional regulation of franchise shifts could well have become a reality.
In contrast, there have been numerous franchise shifts in the NBA and the NHL since 1960's. 
Continue reading "Not Sleepless, Just Basketball-Less, in Seattle"