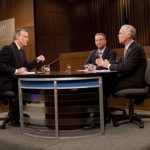 On November 7, 2010, Senator-elect Ron Johnson was a guest on "Up Front with Mike Gousha." He made a comment that hit the heart of an issue I have often pondered. This past summer, I had the opportunity to clerk for a law firm that handles primarily medical malpractice actions. So, this conversation sparked my interest.
Mr. Johnson referred to "Tort Reform" and the frivolous lawsuits against medical professionals.  He said that an estimated $2-3 billion dollars was spent on frivolous suits that have forced doctors to practice "defensive medicine" in Wisconsin.  Whether accurate or not that number has raised eyebrows.
The healthcare crisis facing our nation seems to be the driving forces behind the particular interest in frivolous (or at the least possibly frivolous) medical malpractice actions.
 What is tort reform? Generally, tort reform seeks to limit the costs associated with medical malpractice claims by adopting statutory or other regulatory law to limit civil liability. Continue reading "Reform?"