Posted by: Steve Nelson
Category: Popular Culture & Law, Public
1 Comment »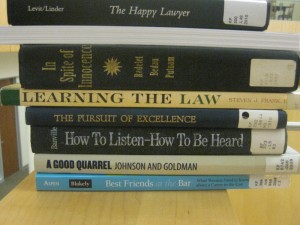 I'd like to follow the previous posts celebrating National Poetry Month (here, here, and here) with a hastily composed bookspine poem titled "The Happy Lawyer". I imagine that before they printed words on magnets, people would rearrange their books to write poems on the fly. Bookspine poetry is celebrated by libraries and readers alike.

You can follow any responses to this entry through the RSS 2.0 feed. You can skip to the end and leave a response. Pinging is currently not allowed.