Posted by: Melissa Love Koenig
Category: Legal Practice, Legal Scholarship, Legal Writing, Public
1 Comment »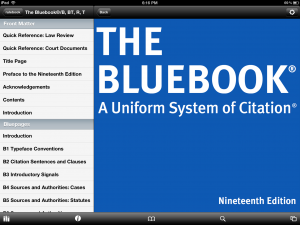 The Bluebook, A Uniform System of Citation, fondly referred to as "The Bluebook," is now available as a mobile app. The Bluebook is a legal citation style guide. The app is available for sale through the rulebook app on all Apple iOS devices.
On August 22, 2012, the Federal Rules of Appellate Procedure, Bankruptcy Procedure, Civil Procedure, Criminal Procedure, and Evidence may be downloaded for free on the rulebook app.

You can follow any responses to this entry through the RSS 2.0 feed. You can skip to the end and leave a response. Pinging is currently not allowed.