Posted by: Matthew J. Mitten
Category: Marquette Law School, Public
Leave a Comment »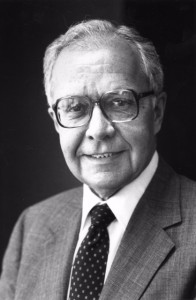 I remember Professor Jim Ghiardi with great fondness and respect. Jim was very welcoming to me when I joined the Marquette law faculty as the director of the National Sports Law Institute in 1999, and he made significant contributions to the development of the NSLI (and our Sports Law program) as a longtime member of its Board of Advisors and one of its strongest supporters. I always appreciated his periodic visits to my office to offer advice and suggestions about building their quality and reputations, which he conveyed with a big smile and a twinkle in his eye. He's one of the pillars that established a solid foundation for the NSLI and our Sports Law program as well as Marquette Law School. May he rest in peace while his memory continues to inspire us.

You can follow any responses to this entry through the RSS 2.0 feed. You can skip to the end and leave a response. Pinging is currently not allowed.