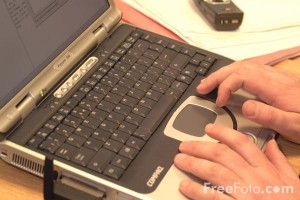 One of the most charged debates within law faculties across the country is the issue of implementing (or not) a ban on laptops in the classroom. Most law schools have wireless Internet access in the building, and some schools even require students to own laptops. More recently, however, individual law school professors (and, in at least one case, the law school itself) have begun banning the use of laptops in the classroom. The impetus for such bans seems to be professors' concerns with students surfing the Internet during class, checking their email and instant messages, and even instant messaging their classmates "the answers" during class. Some professors feel the laptops create a physical barrier between them and their classes, and they are unable to gauge the students' understanding of the material.
Professor Jana R. McCreary of Florida Coastal School of Law enters the debate with an article that will be published this spring in the Valparaiso University Law Review. Professor McCreary's article contributes to the debate some empirical research on students' laptop use. She surveyed almost 450 second-year law students from three law schools (University of Memphis Cecil C. Humphreys School of Law, Nova Southeastern Shepard Broad Law Center, and Seattle University School of Law), asking students to respond anonymously to questions about their laptop use in class and their opinions about laptop bans. Her conclusion: many students use laptops as a tool for note-taking, organizing, and, indeed, thinking; thus, an all-out ban would be detrimental to students' learning. Her solutions: create a laptop-free zone in the front of the class and/or implement a temporary one- or two-week ban on laptops to allow students to experience class without the laptop and to decide on their own whether to continue to use a laptop.
Professor McCreary reminds us that law students are adult learners, and as adult learners they want to be seen as "capable of self-direction," and are likely to resist being told how they should learn. She writes,
This need to be viewed as capable leads adult learners to strongly resist when they feel as if others' wills are being imposed. If their educators treat them as children, becoming too paternalistic in the process, the adult learner will resist and end up with an internal struggle between their strong sense of self as an adult and regressing back to feeling like a child learner who is directed and told what to do.
Not only must we remember that law students are adult learners, we also must remember that law students, like other students, have different learning styles. Professor McCreary argues that whatever one's learning style, there may be benefits to using a laptop in class. She believes that "banning the use of laptops in a classroom actually takes a learning tool away from students."
Still, there is the very real concern that students who use laptops in the classroom often misuse them, and that this misuse is distracting to other students, all of which creates an atmosphere that decreases learning. Professor McCreary's survey data indicates that of the nearly 80 percent of students who always use a laptop in class, 96.1 percent use it for taking notes. But that's not the only use: 70.5 percent said they used their laptop to surf the Internet, mostly to check their email (87.1 percent), although nearly as many (77.8 percent) said they used the Internet to look up cases, statutes, or other class-related material. Fewer than half (42.1percent) said they used the Internet for other purposes, like shopping or general surfing, and even fewer (38.4 percent) said they used the web to instant message their classmates and friends. The majority of those who used the Internet in class did so because they were bored. Professor McCreary notes, "[I]f a student is bored, laptop or not, that student is likely to find something else to capture her attention – crossword puzzles, writing notes, daydreaming, or even making a grocery list." (This last thing –- making a grocery list –- is something that I have done while bored in law school. Apparently so has Professor McCreary. But the most egregious conduct of a bored student that I can recall from my law school days occurred in my family law class. I distinctly remember a 3L who sat in the back of the room with the newspaper open in front of him, pages rustling as he turned them throughout class.)
While the survey results showed that most students did not claim to be distracted by their own or others' laptop use, Professor McCreary discovered that most of those students who did not use a laptop for class were distracted by their classmates' use. Thus, Professor McCreary concludes that banning laptops in the front three rows of her classroom allows non-users the opportunity to avoid the distractions caused by their classmates' laptop use. Another solution that Professor McCreary proposes is a one- or two-week ban on laptops, so students can determine for themselves whether they are able to take more efficient notes and pay better attention in class.
In the spring of 2007, I implemented a complete laptop ban in my legal writing classes. At the end of the semester I surveyed the students about that ban. Students were asked to anonymously rate the ban on a scale of 1 to 6, with 1 meaning they hated the ban, 4 meaning they didn't care one way or the other, and 6 meaning they loved the ban. Sixty percent of the 43 respondents rated the ban a 4 or higher, and 74 percent of them believed that having no laptops in the classroom either "sort of helped" or "really helped" them stay focused on the class materials and presentations. Two students admitted that they hated the no-laptop rule, but both acknowledged that "[i]t was probably good" for them. One said, "I didn't like it, but I definitely learned better. It forced me to pay attention even to things that I didn't feel were important at the time. And several of these turned out to be important!"
But consistent with Professor McCreary's conclusions, some students felt disadvantaged by not having their laptops because they used their laptops to organize and think. One student wrote that not having a laptop "hurt my organization alot [sic], seeing as how I organize my life through my laptop." Another said, "My laptop has become how I speak with my brain." One student vehemently objected to the ban:
I am dependent on my laptop for taking notes and the act of typing helps me pay attention. I'm not used to handwriting notes, and I'm really slow at it now so I would often miss info. Having the power points helped with the missing info, but getting them handed out provided no incentive to pay attention. So I do[o]dled. Either way, whether there are laptops or not, students aren't going to pay attention. Don't punish those who actually pay more attention when they can type.
I have not implemented the ban since that spring. I have noticed, though, that the students who don't use laptops often tend to cluster at the front of the classroom, lending credence to the laptop-free zone solution that Professor McCreary presents. Similarly, my (albeit small) survey results show that most students thought that having no laptops helped them stay focused, and, as the specific comments illustrate, some noticed that they "learned better." This also suggests that the "laptop vacation" Professor McCreary proposes may inspire some students to ditch their laptops in favor of the pen and paper note-taking method in order to learn better.
While I know that my students will use the Internet for non-class related purposes (and sometimes they do it when I am standing right next to them), I no longer favor a complete ban. This semester, my students' final grades contain a "professionalism" component. That professionalism component encompasses many things (like submitting all assignments and participating in class), but one thing it encompasses is proper use of their laptops. My syllabus states,
Laptops may be used only for legitimate classroom purposes, such as taking notes, downloading class information from TWEN, or working on an in-class exercise. E-mail, instant messaging, surfing the Internet, reading the news, or playing games are not considered legitimate classroom purposes; such inappropriate laptop use is distracting to those seated around you and is unprofessional. Part of your final grade is based on your professionalism.
The jury's still out, if you will, on whether tying classroom laptop use to professionalism has any impact on student use. In any event, I don't think the laptop debate will die any time soon, but at least we have more information on which to base any decision we make to ban laptops or not. The important thing I think we need to remember is best summarized by Professor McCreary: "The question, though, should not be what we, as professors, prefer. The question should be whether banning laptops from the law school classroom is the best thing we can do for our students – having considered all of the student concerns."