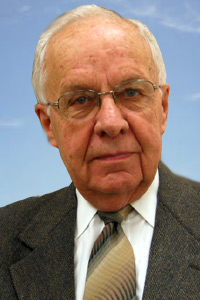 My first experience with Professor James D. Ghiardi occurred in the fall of 1960 when I was a first year student at the Marquette Law School. I learned that Jim was my Torts teacher. Prior to that time I had never known any attorney. There were none in my family, and none of my friends had relatives who practiced law. I recall thinking in that first Torts class, if Jim was what being a lawyer was about, I had selected the right form of postgraduate education. He was the kind of lawyer I wanted to be.
At the inception, Jim made it clear to me and my fellow students that he was there not only to help us learn what Torts was all about, but also so that we learned to think, speak, and act like lawyers. We were not there to learn how to be philosophers, economists, sociologists, or political scientists. He also made it clear to all of us that knowing the elements of any particular Tort theory did a lawyer little good if he or she did not know how to prove those elements in court. What I experienced in that class made me want to take Jim's other courses as well. It was very clear to anyone who cared to observe that Jim loved the law and what he was doing.
But Jim Ghiardi was much more than a law professor. He was and remains a dedicated husband, father, and now grandfather. He has served as President of the State Bar of Wisconsin. Election to that post speaks volumes about the respect he earned from lawyers in the state — even those who were not Marquette alums. He also served as a representative of the State's bar in the ruling body of the American Bar Association. Jim loves sports, being a Marquette Basketball season ticket holder for as long as I can remember. Up until a few years ago he was also an avid golfer.
Several years after I graduated from the Law School, I felt a great deal of pride after making a presentation at a Wisconsin State Bar meeting. Thereafter, a member of the audience approached me and said that he was one of Jim's former students. He then said that when he closed his eyes while listening to me he could have sworn that it was Jim making the presentation. High praise indeed.