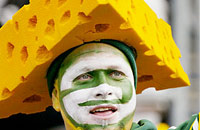 It's unusual for a law review in one state to devote an issue to a decision from the supreme court of another state, but that's exactly what happened when the Western New England Law Review published a 2004 symposium issue concerning State v. Oakley, 629 N.W.2d 200 (Wis. 2001).  I personally welcome the opportunity to teach and, in the process, critique the decision.
The case involved David Oakley, who fathered nine children with four women and was impossibly behind on his child support payments.  Manitowoc County Circuit Court Judge Fred Hazlewood placed Oakley on probation following his conviction for refusing to support his children.  However, the probation was conditioned on Oakley having no more children until he could support the ones he already had.  A four-judge majority of the Wisconsin Supreme Court confirmed Hazlewood's order. 
Commentators predictably discussed the decision's ramifications for the right to procreate and the larger right to privacy. 
A few were also intrigued that all of the Court's men were in the majority block while the three women on the Court dissented.  For my own part, I am most struck by the way all of the members of the Court, regardless of their positions on the constitutional law issues, appeared to agree in dicta that Oakley was the ultimate "deadbeat dad" and, by extension, a nefarious agent of poverty.  If we could only get the Oakleys of America to make their support payments and to live up to their responsibilities, the thinking went, we could relieve our society of an immense social problem. 
The characterization of Oakley and the analysis of poverty as a social phenomenon were too simple.  Born in prison, virtually uneducated, and never able to hold a job, Oakley exemplified an impoverished life as much as he caused poverty.  The embarrassing reality of poverty in America cannot be eliminated by making Oakley and people of his ilk pay up.  We instead need substantial income support for single-mother families, expanded public child care, and extensive training and employment programs.  But alas, it's easier to point at individual failures and weaknesses than to address the immense inequities built into the very structure of our society.