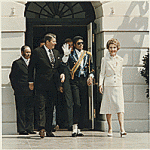 Irene's recent post on why we love intellectual property gets at its certain power–its ubiquity in everyday life. The recent death of Michael Jackson speaks to that particular ubiquity. What was necessarily powerful about his death was that for kids of a certain generation (maybe if you were born between 1972 and 1980?), his music served, as the pundits keep saying over and over, as the "soundtrack" of our lives. I remember one slumber party where all of the Michael Jackson videos played over and over and over for 24 hours (those poor parents). The summers of 1983 through 1985 were consumed in the great debate (forget US v. USSR) of the middle 1980s: who was better, Michael Jackson or Prince! I was a stone cold Prince fan, who marshaled my arguments as if I was getting ready for battle (Purple! Let's Go Crazy!, Purple!). I was usually in the minority in that one, as no one could top Michael's videos (did Prince dance with zombies (No!), could Prince moonwalk (No!), could Prince rock that awesome red jacket (No!)).
This "great" debate of the Eighties morphed, though, in the Nineties, into a more interesting debate about, strangely enough, the performance artist's relationship to copyright. Michael Jackson often sought to own publication rights to songs and maintained that as a source of revenue. Famously, in the mid-1980s, Jackson purchased half of the Beatles catalog for 47 million; he later sold that property to Sony for 90 million, and indeed at his death, that catalog alone is potentially worth 500 million.  He also owned the separate catalog of his work. He did not exercise, however, his performance rights as extensively. Notably, at the time of his death, the actual funding for his contract tour was provided by outside investors.
Prince, on the other hand, fought a very public battle (remember his five-year career as The Artist Formerly Known as Prince?) with Warner Brothers to be released from both his publishing and recording contracts. After the end of that fight, he moved onto innovative ways of distributing his work so as to build an audience for his touring (which he views as his primary way to make money). Prince also began to exercise much more control over his image (did you know that the name Prince is now trademarked?) Indeed, the "Prince" model–increasing independence from record labels with one's primary source of income deriving from concerts and other uses of their image–is often suggested as a way for artists to command income in the era of digital downloads.
Publish or Perform? The question as we look today at Michael's death: did Prince win after all?
And don't get me started on Madonna and The Right of Publicity!