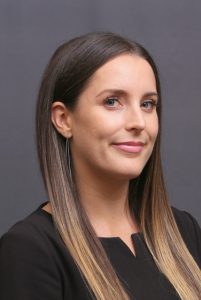 Please join me in welcoming our guest bloggers for the month of September!
Our Student Blogger of the Month is Kylie Owens.  Kylie grew up in Ogden, Utah and later attended Weber State University where she earned a B.A. in History and Geography. After receiving her undergraduate degree, she taught AP Geography and U.S. History to junior high students for almost seven years before deciding to go to law school.
Since the outset of her legal career, Kylie has worked mainly in family law, and is interested in gaining experience in other practice areas. She is competing in the National Moot Court Competition and is also pursuing an ADR certificate.  In the little free time that she does have, Kylie enjoys practicing meditation, finding all the best restaurants in Milwaukee, and traveling.
Our Alumni Blogger of the Month is Molly Madonia.  Molly is the Staff Attorney at Milwaukee World Festival, Inc., the producers of Summerfest™, the World's Largest Music Festival™. Her primary areas of responsibility include managing MWF's trademark portfolio, which includes the well-known Summerfest Smile™; liaising to Marketing teams on issues related to sponsorship, exhibitorship, and marketplace; advising the Human Resources department on compliance-related matters, including navigating the ADA and input on employee training; writing those Sweepstakes/Promotions rules for use on social media; and, of course, "other duties as assigned."
She was honored to join the MULS graduating class of 2016, receiving her J.D. and the Certificate in Alternative Dispute Resolution. For more work by Molly, please see her pieces published in the Marquette University Law School Intellectual Property Law Review.
Thanks for joining us and we look forward to your posts.