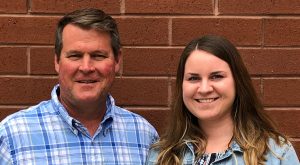 For the month of July, we welcome father-daughter pair Mike and Micaela Haggenjos as our alumnus and student bloggers.
Mike grew up in Prophetstown, Illiniois, attended the University of Iowa and received a B.S. degree in Political Science and Economics.  He graduated from Marquette Law in 1989.  He was in private practice until 2004 at the Port Washington, Wisconsin law firm of Ansay & Haggenjos (now O'Neill, Cannon, Hollman, DeJong & Laing, S.C.).  Mike left the practice of law to become an owner and officer of Voeller Mixers, Inc., in Port Washington, a manufacturer of equipment used to make concrete products.  Mike has been married to Ellen for 30 years and has two children, Micaela and Matthew.  Mike enjoys golf, boating and performing as the lead singer in a rock band that plays in Ozaukee and Washington County.
Micaela grew up in Port Washington, Wisconsin and received her B.A. in English Literature from the University of Wisconsin-Madison. During her time at MULS, Micaela interned with the Honorable Rebecca Bradley of the Wisconsin Supreme Court and is currently working for the firm Alan C. Olson & Associates in New Berlin. Micaela is a member of the Association of Women in Law and the Business Law Society at MULS and has volunteered for the MJC Family Law Forms Clinic and the Eviction Defense Project. Micaela and her competition partner, Brooke Erickson, were the champions of Marquette's 2019 Jenkins Honors Moot Court Competition and won the Franz C. Eschweiler Prize for Best Brief. She looks forward to representing MULS at the National Moot Court Competition this fall and serving on the 2019-2020 Moot Court Executive Board as Associate Justice of Intramural Competitions. Micaela hopes to work in litigation and appellate practice after graduation.
We hope that this is the first of many family pairings on the Faculty Blog.