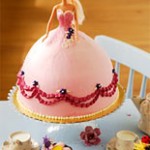 I often tell my students that Intellectual Property is like the "icing on the cake"—the "cake" being the structure created by a product or service to which Intellectual Property law (IP) applies.  As I will elaborate in a future post, this is one of the reasons why I like IP so much.  In other words, while the technical application of IP is undoubtedly complicated and challenging, IP is often just the last step of a production or creation process.  It is like the icing on a cake — that final layer that ties everything together.  Yet this layer is absolutely necessary to complete the work and often represents the sine qua non of why the public will buy the cake.  It determines whether a product will be successful or not.  This post, however, is not about IP theory . . . it is really about cakes, icing, and IP.
Last week was my husband's birthday and that, as is the case for all of the birthdays in our family, means primarily one thing: a celebration with a Simma's cheesecake (for those new to Milwaukee, Simma's Bakery in Wauwatosa is a must see, and eat, in the region!). So, following tradition, I went to Simma's and purchased the cake (traditional chocolate icing with primary color balloons). Because both my daughter and son's birthdays will be at the end of August (they will turn 1 and 3 respectively) and we will be gone most of the summer, I also decided to look into "preliminary steps" to order their cakes which, due to their ages, will have a more "personalized" design (maybe my husband would have also liked a more personalized cake; we will see what we can do next year).
While flipping the pages of the various catalogs on "personalized icing" options for cakes, I soon realized that the world of personalized cakes is richer than ever. Do you want Elmo? Or some sort of Princess? Or Shrek (with or without Donkey)? Customers can pick any favorite cartoon (old or new), or character (Hanna Montana, Dora, Diego, or Barbie anyone?), etc.  It is obvious that this is a flourishing business and entertainment companies came to this realization long ago.  In fact, every page with the personalized icing options also invariably carried a notice that the respective characters are used "under the authorization" of the rights' owner.  So, if I were to pick Elmo, my icing would not be the result of the creative handiwork of the workers at Simma's but instead the application of a pre-made decorative sheet (purchased by Simma's and made under the control and license of the owner of the rights of the Sesame Street's characters) that would be applied on the icing as part of the cake decoration.
Some IP scholars in the country would argue that such use of characters (and related trademarks) should not be limited only to authorized copies and that the creative (non authorized) use of existing trademarks (not so much copyrights, which enjoy a less disputed "property" status in US law) would not represent an infringement.  In general, however, it has become increasingly accepted in the business world that characters used in such icing designs should be authorized and most shops, including small bakeries, duly ask for authorization prior to their use.
What, however, caught my attention during this (mouth-watering) search for the perfect cake for my children was a picture of a "Barbie Cake" (see the thumbnail photo above).  As it is clear from the picture, this cake is the result of putting a Barbie doll in the middle of a cake, which then is molded into a ball dress for the doll herself.  The page depicting this cake did not have disclaimers of any sort. When I saw the picture, I asked the lady at the counter: "Do you ask Mattel for the authorization to use Barbie in your cakes?"  As always, the IP lawyer in me could not resist the inquiry.  The clerk gave me an inquisitive look (the same type of look I often get from people working in stores to whom I ask "IP type of questions") and simply answered "People bring in their dolls and we build the cake around the doll."  "Ahh …" I said "it is a sort of first sale rule exception", and quickly lowered my gaze back to the "icing options book" to avoid seeing her reaction.
To translate for non IP experts, every product that has been put into the market (i.e. sold or otherwise released) is subject to the so called "first sale rule."  In the US this extends geographically to the national market, but not to products coming from outside the US.  Specifically, once we buy (or are given as a gift or otherwise legally obtain) a product, we are free to resell it, gift it to someone else, etc. This rule, which may seem obvious, but is not necessarily so, also applies to retailers (so businesses like TJ Max can sell "branded" goodies at a fraction of their "original" price).  Yet, as a limitation to this "resale" or "product circulation" rule, the law says that even legitimately purchased products cannot be resold under the "first sale rule" if they have been changed or altered, since consumers may erroneously believe that the first owner (Mattel here for Barbie) is responsible for the changes.
So, back to the "Barbie Cake."  The use of "my Barbie doll" — a legitimately purchased Barbie — as part of a birthday cake for my child seems to fit within the "first sale rule" exception.  Therefore, no authorization from Mattel seems to be required for such use of the doll.  Specifically, the bakery uses "my doll" and I, the consumer of the cake, clearly know what I want (a cake that incorporates my doll as part of it).  I also know that Mattel does not have any part in this process—that is, if the cake is bad or there is anything wrong with it, I will go back to Simma's, and not to Mattel, to complain.  That said, it is still foreseeable that the use of Barbie for "commercial purposes" (the bakery building the cake around "my doll" for a profit) could potentially be seen as "non authorized" and therefore forbidden.  It might be argued that other consumers (either my guests at the birthday party or other people waiting at Simma's while I pick up the cake) will believe that Mattel has somewhat authorized or sponsored such cakes (and maybe Mattel is already planning to enter the "three-dimensional cakes" business).
Still, if I were Mattel, I would not bring a suit of any sort against Simma's.  In fact, since the subject matter here is Barbie, the likelihood that the courts will rule against the use of the doll by a bakery is very low, if not non-existent.  Courts have previously ruled that Barbie is a "modern icon" and as such her use by the public (for sculpture, music, etc.) cannot be prevented.  The most relevant case on this area came from the Ninth Circuit a few years ago in Mattel v. MCA Records.  Here the court ruled in favor of MCA in the matter of the song "Barbie Girl," and its related video, performed by the Swedish Group "Aqua."  In my Intellectual Property Class we listen to the song and watch the video ( no wonder IP is a fun class!).  Based on the foregoing analysis, I would be inclined to say that the use of a Barbie doll for a cake most likely does not represent a trademark infringement of any sort (even if I would not go so far as to say that to a business engaged in the mass production of such cakes would be permitted, since I think that this latter example would more likely be an infringement).
So, what did I conclude about my childrens' cakes?  Probably not this year, because my daughter will be too young, but in future years I will definitely consider the option of a birthday "Barbie Cake"!