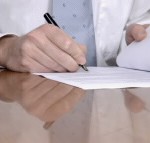 About four years ago, when I started working for my current employer, I was an administrative assistant to a division president. It wasn't exactly my dream job, but all in all I enjoyed it. One of the things I assisted with was the maintenance of our standard contract templates. It was very much an administrative task (I took dictation and changed what I was told to change), but I did it with pride because it was the only part of my job that was remotely related to the legal field. Throughout my advancements within the division, contract edits never left my realm of responsibilities, and I have now ventured into the area of drafting. (Woo-hoo, fun, you're probably thinking; but, no, seriously, it is fun.)
What I have grown to appreciate is how difficult it is to maintain contract templates and to ensure that Sales has all the right schedules and exhibits. It seems like every week I am getting requests for reviews, redlines, or amendments, all of which have to be done ASAP. I cringe a little when I hear someone jokingly say "Talk to our resident contract expert" because I know that means me and I know the next contract "fire drill" is about to come my way.In reality, I don't mind dropping everything I am doing to work on contract language for a couple of hours. It's a ton of work and requires meticulous attention to detail (with my comma problems I sometimes wonder if I am really the best person to do edits, as the last thing I want to do is repeat a contract fiasco like Rogers Communications). And, I would be lying if I said working on contract language is a creative or imaginative process, because it is not. Really, from my own experiences, day-to-day transactional contracts are just boilerplate indemnity language and seemingly ever changing "standard" business terms. Maybe that's why contract drafting is usually left to a contract administrator or a paralegal . . . or a Marketing Coordinator who goes to law school in her spare time.
What's enjoyable about the process is simply how complex contracts are. Even if written in plain language, which most are, they usually contain numerous references to other sections, or to acts and laws to derive meaning. Once you learn how to read them you can gain a great understanding of the business you are in. And, as a little side perk, people really respect you when you are able to decipher contract language.
Today though, as I was finishing up a redline, I had a humbling thought: "what if this contract ends up as evidence in court and I did something that is really stupid." It is kind of a silly thought, since I draft the templates and do initial redlines that will probably go through numerous rounds of negotiations. But I wonder if someone is really checking to make sure all of my commas are in the right place. I always provide my standard CYA disclaimer: "I'm not a lawyer and I don't work in Legal so make sure this gets reviewed before it goes out the door," but maybe that's not enough.
Does anyone have any suggestions of how to improve my contract drafting skills (beyond taking the Contract Drafting Workshop, which I already plan to do)?
(Editor's note:  This is a delayed posting from last month's student blogger, with the delay attributable to the editor and not to the blogger.)